ChurchWatch Central
To all our critics who love Hillsong, here is another reason to hate us: We endorse this sexy relationship between Survivor contestants Josh Canfield & Reed Kelly.
(Hey Carl Lentz! Don't they look hot and steamy in this advert for Survivor? Move over Beiber! You've got serious competition!)
The Broadway Tour reports,
Survivors Reed Kelly, Josh Canfield Made First Splash on Broadway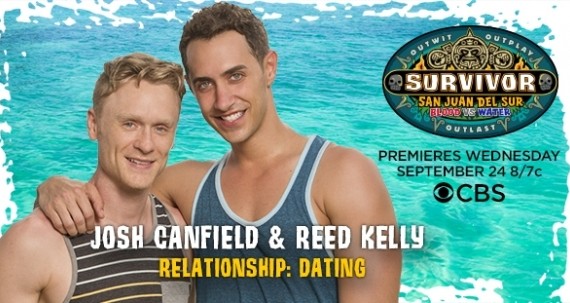 While it appears that alliances are shifting and the solid place Broadway couple Reed Kelly and Josh Canfield have secured on "Survivor: San Juan Del Sur" may be slipping, the two will always have the stage.
The two are participating in the second Blood vs. Water setup for the long-running show and are one of the only romantic couples remaining. Most of the others remaining are parent and child, since the brother-sister pairings were among the first to be split apart.
It was, according to online interviews, 32-year-old Kelly who…
View original post 798 more words