---
Nov. 9, 2016 |
BLOOMBERG
A divided America began to grapple Wednesday with the reality of Donald Trump being elected the 45th president following a stunning repudiation of the political establishment that jolted financial markets and likely will reorder the nation's priorities and alter the U.S. relationship with the world.
Brexit was the warm-up. With the election of Donald Trump, the populist tide sweeping developed economies has now overtaken the world's most powerful democracy. What exactly that means for the rest of the world depends upon just how serious the real estate developer and reality TV star was about his campaign pledges. Those ranged from triggering trade wars, to undermining the North Atlantic Treaty Organization, to stoking a new nuclear arms race.
Asian stocks slumped the most since June in volatile trading as Republican Donald Trump won the U.S presidential race, shocking investors who had expected Democrat Hillary Clinton to win. Markets from Japan to India fell the most since at least June 24, when Britain shocked investors by opting to leave the European Union, as investors dumped global risk securities and bought safe-haven assets including the yen and gold.
London-based gold dealer Sharps Pixley Ltd. is running out of bars and coins as buying surges after Donald Trump won the U.S. presidency.
India will withdraw high-denomination banknotes in the nation's biggest crackdown against corruption in almost four decades. Five hundred rupee ($7.5) and 1,000 rupee notes will cease to be legal tender from Wednesday, Prime Minister Narendra Modi said in an unscheduled address to the nation. The notes in circulation will have to be deposited in banks by the end of December.
AP Top Stories
Oklahoma regulators say they will shut down some disposal wells and reduce volume in others after a magnitude 5.0 earthquake struck near Cushing on Sunday night.
A hoax caller pretending to be air traffic controller tapped into restricted radio frequencies and forced an Australian commercial flight to pull up just before landing, a report said, with police investigating 15 such unauthorized transmissions.
When a scientist announced last decade that he'd built a new form of spacecraft propulsion called the EmDrive that didn't require conventional fuel, it sounded too good to be true. But the great thing about science is that you don't have to take someone's findings at their word; you can test it for yourself. NASA did just that-and while the space agency hasn't officially released its findings yet, a leaked copy of NASA's report reveals the EmDrive seems to work as advertised.
Turkey could consider procuring a long-range missile defense system from other countries if its plan to develop one locally takes too long, a top defense official said on Tuesday.
Scrambling to defuse a massive scandal, South Korean President Park Geun-hye on Tuesday conceded to lawmakers the power to name her new prime minister, a move that could seriously hurt, or even destroy, her ability to govern.
A seven-year-old schoolgirl was killed and 32 Indian UN peacekeepers were wounded in an explosion in Goma in the eastern Democratic Republic of Congo (DRC), the world body said.
Retailer Tesco Plc's banking arm said on Tuesday that 2.5 million pounds ($3 million) had been stolen from 9,000 customers over the weekend in what cyber experts said was the first mass hacking of accounts at a western bank. Tesco Bank said it had resumed full service after the theft, which forced the suspension of online transactions on Monday.
Taco Bell Corp, a unit of Yum Brands Inc. said it would increase the number of restaurants in the United States to 8,000 and create 100,000 jobs by the end of 2022, as part of its push to reach $15 billion in sales.
BBC
Canada's immigration website has suffered an intermittent fault that made it inaccessible to visitors during the US election vote. Officials have confirmed that the cause was a higher than normal level of traffic.
Voters in California, Nevada and Massachusetts have endorsed the recreational use of marijuana in state-wide polls.
A Chinese court has handed a suspended death sentence to the head of a chemical factory for his role in blasts that killed 173 people last year. Ruihai Logistics chairman Yu Xuewei was also fined more than about $100,000 over the disaster in the eastern port city of Tianjin. He is among 49 staff and government officials jailed for their role in the firm's illegal operations.
Haiti's ministry of health and international aid organizations are launching a cholera vaccination campaign on Tuesday. Their aim is to vaccinate about 820,000 people within a week.
Gunmen have killed 36 gold miners in north-west Nigeria, police said. The attackers overran a mining camp in the Maru district of Zamfara state, in the latest in a series of similar raids in the region.
A US-led coalition air strike killed at least 16 civilians in a village north of so-called Islamic State's Syrian stronghold of Raqqa, activists said.
WND
Since Donald Trump's electoral victory was first announced, #Calexit has been trending on Twitter, with distraught Californians looking to form their own state.
Colorado has become the fifth state to approve assisted suicide. Terminally ill people with six months or less left to live, as determined by their doctor, will be allowed to buy medicine to kill themselves thanks to a vote Tuesday.
Because many refugees remain on the move, an informal network of new churches for Muslim converts has begun spreading in Britain, the Netherlands, Germany and elsewhere. One church in Berlin has counted 1,200 Muslims converted in just three years, most of them Afghans and Iranians. At a Persian church in Hamburg, meanwhile, more than 600 Pakistanis and Afghans lined up to be baptized during one service. According to a report in The Daily Beast, thousands-maybe tens of thousands-of Muslims have become followers of Jesus across Northern Europe.
---
Top News – 11/9/2016
The Leftwing Media Is Having a Meltdown Over Trump's Victory–Here Are Their Headlines to Prove It
Nearly all the pundits and pollsters got this election wrong. A Donald Trump victory was seen as a long shot even reportedly to the Trump campaign itself. But now that President Trump has become a reality, the leftwing media is in full panic mode.
Israeli Leaders, Excited by Trump Win, Look Forward to Big Changes in Jerusalem, Judea and Samaria
Jerusalem Mayor Nir Barkat called Trump a "devoted supporter of Jerusalem" and said that he expects him to move the American embassy from Tel Aviv to Jerusalem, as Trump promised on the campaign trail. He also extended an invitation to the president-elect, saying, "I am full of hope for your support for our activities for building in and developing Jerusalem for all her residents, and I invite you to visit the capital of Israel."
Analysis: Six Thoughts on Donald Trump's Breathtaking, Surreal Upset Victory
The Democratic establishment heavily tilted their primary in the favor of an incorrigibly corrupt liar, and they've paid an extraordinary political price for their myopic machinations. Hillary Clinton may have wriggled off the hook for her many scandals, but fate caught up with her. Her ultimate indictment was delivered by the American people.
Netanyahu: Trump will continue to strengthen our unique alliance
PM Netanyahu congratulates Donald Trump on his triumph, describing him as 'a true friend,' expressing confidence that the US-Israeli relationship will be elevated to 'new heights'; international leaders also congratulate Trump, hoping the new administration will usher in a climate of peace, stability and cooperation.
Trump election puts Iran nuclear deal on shaky ground
The deal, harshly opposed by Republicans in Congress, was reached as a political commitment rather than a treaty ratified by lawmakers, making it vulnerable to a new U.S. president, such as Trump, who might disagree with its terms.
Trump campaign manager does not rule out special prosecutor for Hillary Clinton – MSNBC
Donald Trump's campaign manager, speaking on MSNBC, said appointing a special prosecutor for Hillary Clinton can't be ruled out, adding that discussion regarding the issue will happen "in due time."
She. Has. Been. Stopped.
She. Has. Been. Stopped. I thank God these prayers have been answered in an absolutely stunning, historic and largely unexpected night.So now it's official: Donald J. Trump will be the 45th President of the United States, Gov. Mike Pence will be the next Vice President of the United States, The House will remain in conservative Republican control. The Senate — another stunner — will remain under Republican control.
Trump Upset Victory Divinely Sent to Begin Messianic Process: Rabbis
Donald Trump's upset victory in the presidential race over Hillary Clinton, who was heavily favored in virtually all the pre-election polls, seemed to defy the laws of nature, reason and sense. Several rabbis have an explanation, however: it was, quite simply, the will of God.
If Brexit was a Tremor, Is Trump an Earthquake?
Donald Trump has been named winner of the U.S. presidential election. Stocks, bonds and currencies reeled on Wednesday in Asia as vote tallies showed a clearer and clearer path to victory for Trump.
Mortar hits Golan Heights, no one hurt
A mortar shell from Syria landed inside Israeli territory in the Golan Heights region, the IDF reported Wednesday morning. No one was harmed by the mortar, and no property damage was reported. The landing was likely the result of a stray shell fired during the fighting in the war-ridden country.
Horror and fear strikes the Muslim world as Trump wins after months of anti-Islamic rhetoric
Horror and fear swept through Muslim countries after Donald Trump was confirmed as President of the Unites States after months of anti-Islamic rhetoric. …Muslims across Asia were struggling this morning to accept the news the populist candidate will take office in the White House, saying that ISIS would be happy he won the presidency race.
Rise in atmospheric CO2 slowed by green vegetation
The growth in the amount of CO2 in the Earth's atmosphere has been slowed by the increased ability of plants to soak up the gas. A new study says that green vegetation has helped offset a large fraction of human related carbon emissions between 2002 and 2014. Plants and trees have become more absorbent say the authors, because of so much extra CO2 in the atmosphere.
Syria conflict: Coalition strike 'kills 16 civilians near Raqqa'
A US-led coalition air strike killed at least 16 civilians in a village north of so-called Islamic State's Syrian stronghold of Raqqa, activists say. The UK-based Syrian Observatory for Human Rights reported that six women and a child were among those who died in the raids on al-Heisha overnight. The IS-held village has been the target of a US-backed alliance of Kurdish and Arab fighters seeking to capture Raqqa.
Rio de Janeiro workers invade assembly in protest at austerity
Thousands of public workers have stormed the Rio de Janeiro assembly in protest at austerity plans to deal with the Brazilian city's financial crisis. The measures, including cuts salaries, were announced last week. Many public workers have not been paid in months. On Monday the federal government froze Rio's accounts ordering the state to pay millions of dollars in unpaid debt.
Shock as India scraps 500 and 1,000 rupee bank notes
Indian Finance Minister Arun Jaitley says "honest people" have no need to worry about a decision to scrap 1,000 and 500 rupee notes. Mr Jaitley said the move would flush out tax evaders, adding that all old notes deposited in banks would be subjected to tax laws. The surprise move, announced on Tuesday evening, is part of a crackdown on corruption and illegal cash holdings.
US Election 2016: Asia markets jolted by Trump win
Asian stocks have fallen sharply as Donald Trump beat Hillary Clinton in the race for the White House. All regional markets closed lower, with money flowing into safe haven stocks, gold and currencies including the yen. Japan's Nikkei 225 dropped by 5.4% while European and US markets are expected to slide when trading resumes on Wednesday.
Iran urges Trump to uphold nuclear deal during presidency
US President-elect Donald Trump should stay committed to the international nuclear deal with Iran, Iranian foreign minister Mohammad Javad Zarif was quoted as saying by Tasnim news agency on Wednesday. "The United States should fulfil its commitments in the Joint Comprehensive Plan of Action (the nuclear deal) as a multilateral international agreement," Zarif was quoted as saying while on a visit to Romania.
Netanyahu: Trump will bring US-Israel ties to 'greater heights'
Prime Minister Benjamin Netanyahu on Wednesday congratulated Donald Trump on his election as the 45th president of the United States. "President-elect Trump is a true friend of the State of Israel," Netanyahu said on Wednesday. "I look forward to working with him to advance security, stability and peace in our region."
Israeli Right hails Trump: 'The era of a Palestinian state is over'
After congratulating President-elect Donald Trump, and thanking defeated Democratic candidate Hillary Clinton for her friendship to Israel, Bayit Yehudi chairman and Education Minister Naftali Bennett said "the era of a Palestinian state is over." "Trump's victory is an opportunity for Israel to immediately retract the notion of a Palestinian state in the center of the country, which would hurt our security and just cause.
Trump stuns world with White House defeat of Clinton
Republican Donald Trump stunned the world by defeating heavily favored rival Hillary Clinton in Tuesday's presidential election, ending eight years of Democratic rule and sending the United States on a new, uncertain path. …Trump rode a wave of anger toward Washington insiders to win the White House race against Clinton…
Mexican peso plunges 10% to record low vs. dollar as election unease builds
The Mexican peso plummeted against the U.S. dollar to record lows Tuesday night as Donald Trump won Ohio and took the lead in the electoral count.
Republicans keep control of Senate and House after decisive wins in Pennsylvania, Indiana, Wisconsin and N.C.
The Senate will remain in Republican control, after Pennsylvania Sen. Pat Toomey (R) beat out his Democratic challenger Katie McGinty to retain his seat, dashing the Democrats' hope of a return to power in Congress next year.
One killed near California polling sites, shooter found dead
– A gunman went on a shooting spree near California polling stations, killing one man and wounding two women before dying following a shootout with police, authorities said.
Moderate quake strikes off Chile coast
A 5.9-magnitude quake struck in the Pacific off the coast of Chile early Tuesday, the US Geological Survey reported. The quake hit at about 0500 GMT, about 60 kilometers (40 miles) northwest of the city of Concepcion and at a depth of 17 kilometers, the agency said.
'God Particle' nuke scientists accused of causing killer earthquakes in Italy
The Centre for Nuclear Research (CERN) has been accused of creating shockwaves that triggered the natural disaster that killed more than 200 in Italy just weeks ago. The huge lab in Geneva is home to researchers are trying to find the illusive God Particle.
Magnitude 4.0 earthquake shakes Oklahoma
A magnitude 4.0 earthquake shook Oklahoma Tuesday evening around 8:15 p.m., according to the U.S. Geological Survey. The quake originated outside of Medford, Oklahoma.
U.S. Completes 22 Straight Years of Merchandise Trade Deficits With Mexico
The United States ran a merchandise trade deficit of $5,243,300,000 with Mexico in September, according to newly released data from the U.S. Census Bureau.
Geologists explain Oklahoma earthquakes, ponder 'unknown'
For about 100 years or so, there had been only two earthquakes that came close to a magnitude 5.0 in Oklahoma, said George Choy, a geophysicist with the U.S. Geological Survey. During the past five years, there have been at least four 5.0 or greater earthquakes — including the one Sunday that was the third such earthquake this year.
Netanyahu attacks Israeli media, singles out investigative journalist
Prime Minister Benjamin Netanyahu delivered an unprecedented vilification of the Israeli media on Monday, accusing a leading television journalist of being part of a plot to bring down his right-wing government.
---
We've argued in these virtual pages that political correctness is anti-intellectual, anti-Enlightenment, and a tool deployed by bullies all too often. For many Trump was a stand against progressive newspeak.
---
Gutfeld: Small town America is tired of being mocked
---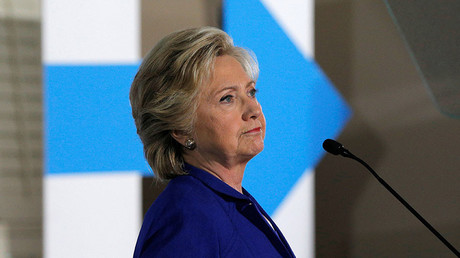 Now that Donald Trump has beaten Hillary Clinton to become the president-elect of the United States, speculation has begun about what went so wrong in the Clinton campaign.
Read Full Article at RT.com
---
---
Top Headlines – 11/9/2016
IT'S TRUMP! STUNNING OUTSIDER VICTORY FOR 45TH PRESIDENT (Read More)
Trump Surges to Stunning Victory (Read More)
Trump takes the White House in stunning upset (Read More)
Trump Pledges to Rebuild America (Read More)
'Deplorables' Rise Up to Reshape America (Read More)
Trump, as Outsider, Broke Every Rule on Road to Victory (Read More)
Markets Pare Losses After Plunging on Trump Win (Read More)
Trump's Win Goes Down Hard in Mexico (Read More)
'Go to hell!' A divided America struggles to heal after ugly election (Read More)
Under $5 each, Trump's votes came cheap (Read More)
Capital Punishment Restored in Nebraska, Expanded in Oklahoma (Read More)
Voters Approve Recreational Marijuana in Four States (Read More)
Wall Street elite stunned at Trump triumph (Read More)
More Pot, Fewer Guns, Higher Pay: How Americans Voted (Read More)
Trump election puts Iran nuclear deal on shaky ground (Read More)
Clinton Couldn't Rise Above an Angry Electorate (Read More)
Italy's Next in the Crosshairs for Anti-Establishment Wave (Read More)
Republicans gain governorships, but North Carolina up in the air (Read More)
Sarkozy Says Trump Win, Brexit Show Popular Desire for Change (Read More)
World leaders pledge to work with Trump after U.S. election stunner (Read More)
OPEC Deal Becomes More Urgent, Harder to Agree On (Read More)
UN committees adopt 10 resolutions against Israel in a single day
PM meets with Israeli Ambassador to UNESCO to discuss resuming cooperation
Water crisis looms as PA refuses to cooperate with Israel
Police Warn Israelis About Potential Perils of Frequenting Palestinian Villages for Good Deals on Goods, Services
Bill banning boycotters from Israel moves forward
Israel stymies Palestinian attempts to join Interpol
Herzog calls on Netanyahu to disavow allies who support Trump
Yasser Arafat museum to open in his old West Bank headquarters
Israel-Albania soccer game moved due to terror threats
At least 295 civilians kidnapped by ISIS west of Mosul, UN says
ISIS forces thousands of civilians to retreat with them from town near Mosul – UN
German police arrest five in raid on 'IS network'
ISIS Threatens to 'Slaughter' Apostate Muslims Who Vote in US Elections
Russia to launch 'large-scale' airstrikes on Syria as Americans vote
US Slams Russian Plans to Strike Terrorists Around Aleppo
UN chief alarmed at 'weakening taboo' on Syria chemical use
'I hate this beard. By God, I hate it': Iraqi men celebrate their freedom by shaving
Paris and Brussels terror attacks were coordinated by Syria-based jihadist called Oussama Atar, French and Belgian intelligence believe
Iran calls for a political solution to wars in Yemen, Syria
Erdogan reminds Turks of old empire, with his eye on new powers
Turkey, EU trade barbs, but little sign of action
Philippines President Duterte threatens to cancel major US arms deal
Hong Kong lawyers prepare protest march after China inflames political crisis
China's Internet controls will get stricter, to dismay of foreign business
India trying to fix hacked websites of 7 of its embassies
A new application that promises to be the "Photoshop of speech" is raising ethical and security concerns
Merkel warns of possible Russian interference in German vote
Donald Trump declared winner in shock result
The Presidential Election Is Suddenly a Lot Closer Than Anyone Thought
Trump shocks pollsters, wins key states of Florida, Ohio
How the pollsters got the US election wrong – just like Brexit
Republicans march toward defense of Senate, House majorities
Republicans hold the House and hang on to the Senate, but will that end the Washington gridlock?
White evangelicals voted overwhelmingly for Donald Trump, exit polls show
Schieffer On Election Eve: It's As If The Nation Is 'Enduring Some Kind Of Curse'
Executive orders, pardons, 'midnight' regulations expected as Obama presidency draws to close
WikiLeaks founder denies trying to influence US election
Sweden Says Julian Assange To Face Questioning Next Week
Hacking concern on Election Day: The companies that bring you the news
Firm Demonstrates Ease of Hacking a Voting Machine
North Carolina Extends Voting After Computer Failures at Polls
1 dead, 2 critically injured in shooting near Azusa polling station; heavily armed assailant found dead
The Arab world on the US elections: 'No hope'
Topless protesters removed from polling station where Donald Trump later cast his ballot
Russian TV is showing nude Melania Trump and election rigging ahead of U.S. election
Lady Gaga lights up Twitter by wearing 'Nazi-inspired' uniform at Clinton rally
Barack Obama mocks Donald Trump for losing his Twitter privileges
Jordanian airline mocks Trump's Muslim ban ahead of US election
Obama's 'failed regime' will enter the 'cesspool of history,' says North Korea
Canada's immigration website has crashed and people are wondering whether Trump is the reason
Celebs moving if Donald Trump wins
Hollywood Freaks Out: 'About to Throw Up'
Silicon Valley is freaking out about the election right now
Universities help students cope with Election Day stress
LAPD Preparing For Riots If Trump Wins
Gun control measures expected to win in four US states
Global markets tank as U.S. election results shock
Asian Shares Tumble as Trump Gains
Stock Futures Plunge as Donald Trump Posts Strong Showing
Trump win could send gold up 10% to $1,400
Mexico peso plunges to life low as Trump homes in on U.S. presidency
Fed's Evans says it's tough to dissuade Fed from December rate hike
U.S. Completes 22 Straight Years of Merchandise Trade Deficits With Mexico
NASA astronaut casts his ballot from outer space
NASA's latest innovation: swarms of tiny satellites
How GOES-R will help to revolutionize weather forecasting
5.9 magnitude earthquake hits near Talcahuano, Chile
5.1 magnitude earthquake hits near El Hoyo, Argentina
5.1 magnitude earthquake hits near Talcahuano, Chile
5.0 magnitude earthquake hits near West of Macquarie Island
Geologists explain Oklahoma earthquakes, ponder 'unknown'
Sabancaya volcano in Peru erupts to 25,000ft
Ruiz volcano in Colombia erupts to 18,000ft
Sheveluch volcano on Kamchatka, Russia erupts to 17,000ft
Fuego volcano in Guatemala erupts to 15,000ft
Santa Maria volcano in Guatemala erupts to 14,000ft
Turrialba volcano in Costa Rica erupts to 14,000ft
Massive sinkhole swallows road in Japan
Giant snowballs are mysteriously washing up on a beach in Siberia
UN report: Human footprint 'increasingly visible' in climate
Pig experiment may have exposed Canadian lab worker to Ebola
Seniors Suffer Amid Widespread Fraud By Medicaid Caretakers
Five states consider legalizing marijuana
Six new Beatitudes proposed by Pope Francis
Girl, 4, decapitated in Indian ritual sacrifice
Police: Man Claiming To Be Vampire Attacks Grocery Store Employee
Trump Elected President, Thanks to 4 in 5 White Evangelicals
Where Is Hillary Clinton? Runner Up Refuses to Address Her Supporters
Five Nigerian Men Set Free After Killing Christian Woman for 'Blasphemy'
---
John Podesta Refuses to Concede, Hillary Clinton Fails to Show
Posted: 09 Nov 2016 06:28 AM PST
Democratic presidential nominee Hillary Clinton failed to show up at her own victory party at the Jacob K. Javits center, while campaign chairman John Podesta…
Read more at End Time Headlines.
Trump and Republican Victory Could Deal "Death-Blow" to Obamacare
Posted: 09 Nov 2016 06:21 AM PST
The Republican victory, giving candidate Donald Trump the keys to the White House and with the party itself retaining dominance in Congress, could become a…
Read more at End Time Headlines.
No Matter What Happens, We Won't Know Who the Next President Will Be Until Dec. 19
Posted: 09 Nov 2016 06:10 AM PST
(By Michael Snyder) Most Americans assume that their votes decide who the next president will be, but that is actually not the case. It is…
Read more at End Time Headlines.
Netanyahu congratulates Trump on Presidential Victory
Posted: 09 Nov 2016 06:07 AM PST
Prime Minister Binyamin Netanyahu congratulated Donald Trump on Wednesday, following his victory in Tuesday's election. Netanyahu, who assiduously avoided commenting on the race prior to…
Read more at End Time Headlines.
Hollywood In Meltdown Mode over Trump Victory!
Posted: 09 Nov 2016 05:56 AM PST
Celebrities took to Twitter to express their outrage and disappointment over Donald Trump's win. Most of Hollywood supported Hillary Clinton on the campaign trail, urging…
Read more at End Time Headlines.
Canadian lab worker possibly exposed to Ebola virus during experiment
Posted: 09 Nov 2016 05:47 AM PST
A Canadian lab worker may have been accidentally exposed to Ebola while working with pigs that were infected with the virus on Monday.  The man…
Read more at End Time Headlines.
Executive orders, pardons, 'midnight' regulations expected to accelerate as Obama presidency draws to close
Posted: 09 Nov 2016 05:42 AM PST
Look out for the executive orders, the "midnight" regulations and, perhaps most controversially, the pardons. As President Obama runs out the clock on his eight-year…
Read more at End Time Headlines.
Donald Trump says he will honor 'forgotten men and women' as president
Posted: 09 Nov 2016 05:38 AM PST
Donald Trump shocked the nation and financial markets Wednesday by defeating Hillary Clinton after a bitterly contested presidential race that alternately electrified and repulsed millions…
Read more at End Time Headlines.
Mexican peso plunges more than 12% to record low vs. dollar on Trump election upset
Posted: 09 Nov 2016 05:33 AM PST
The Mexican peso tumbled against the U.S. dollar as Hillary Clinton conceded the presidential election to Donald Trump. "Shock and awe in the FX markets….
Read more at End Time Headlines.
Protests Ignite In California After Trump Win
Posted: 09 Nov 2016 05:30 AM PST
Hours after Donald Trump became president-elect, spontaneous protests erupted early Wednesday in Oakland as demonstrators sought to block freeways in the city. A protestor was…
Read more at End Time Headlines.
World In Shock As Stunning Outsider Victory For 45th President
Posted: 09 Nov 2016 05:27 AM PST
Donald Trump claimed his place Wednesday as America's 45th president, an astonishing victory for the celebrity businessman and political novice who capitalized on voters' economic…
Read more at End Time Headlines.
Canada's main immigration website Crashes with Trump poised to win election
Posted: 08 Nov 2016 09:36 PM PST
Maybe some Americans were serious when they threatened they would move to Canada if Republican presidential candidate became successful in his often polarizing campaign for…
Read more at End Time Headlines.
Markets plummet – 760 Points amid tight race between Trump, Clinton
Posted: 08 Nov 2016 07:22 PM PST
Stock futures took a nosedive as states reported Tuesday night, revealing a tightly-contested 2016 presidential election between Donald Trump and Hillary Clinton. With each state…
Read more at End Time Headlines.
PA Voters Report Seeing Trump Votes Switch To Clinton Before Their Eyes
Posted: 08 Nov 2016 06:56 PM PST
Today is Election Day and for the most part, voting has been smooth. Many areas are already seeing long lines with some officials saying they…
Read more at End Time Headlines.
LAPD Prepping For "Riot Mode" In Preparation Of Donald Trump Win
Posted: 08 Nov 2016 06:43 PM PST
While not overtly ramping things up as much as the New York Police Department is tonight on the East Coast, the Los Angeles Police Department…
Read more at End Time Headlines.
Shooting reported near California polling places
Posted: 08 Nov 2016 03:38 PM PST
The Los Angeles County Sheriff's Department is assisting with a shooting investigation in Azusa, Calif., according to the department's Twitter account. The tweet reported the…
Read more at End Time Headlines.
---
Our Time is Short
Read: Recommitting Your Life To God and Jesus Christ – Restoration and Forgiveness With God and Jesus Christ (Updated Version)
---
What is The Gospel?
God made everything out of nothing, including you and me. His main purpose in creation was to bring him pleasure.
The chief way in which we as humanity do this is through loving, obeying, and enjoying him perfectly.
Instead of this, we have sinned against our loving Creator and acted in high-handed rebellion.
God has vowed that he will righteously and lovingly judge sinners with eternal death.
But God, being merciful, loving, gracious, and just, sent his own son, Jesus Christ, in the likeness of man to live as a man; fulfilling his perfect requirements in the place of sinners; loving, obeying, and enjoying him perfectly.
And further, his son bore the eternal judgment of God upon the cross of Calvary, as he satisfied the eternal anger of God, standing in the place of sinners. God treated Jesus as a sinner, though he was perfectly sinless, that he might declare sinners as perfect.
This glorious transaction occurs as the sinner puts their faith (dependence, trust) in the Lord Jesus Christ as their substitute. God then charges Christ's perfection to the sinner, and no longer views him as an enemy but instead an adopted son covered in the perfect righteousness of his son.
God furnished proof that this sacrifice was accepted by raising Jesus from the dead.
God will judge the world in righteousness and all of those who are not covered in the righteousness of Christ, depending on him for forgiveness, will be forced to stand on their own to bear the eternal anger of God.
Therefore, all must turn from sin and receive Christ Jesus as Lord.
---
There is no greater message to be heard than that which we call the gospel. But as important as that is, it is often given to massive distortions or over simplifications. People think they're preaching the gospel to you when they tell you, 'you can have a purpose to your life', or that 'you can have meaning to your life', or that 'you can have a personal relationship with Jesus.' All of those things are true, and they're all important, but they don't get to the heart of the gospel.
The gospel is called the 'good news' because it addresses the most serious problem that you and I have as human beings, and that problem is simply this: God is holy and He is just, and I'm not. And at the end of my life, I'm going to stand before a just and holy God, and I'll be judged. And I'll be judged either on the basis of my own righteousness–or lack of it –or the righteousness of another. The good news of the gospel is that Jesus lived a life of perfect righteousness, of perfect obedience to God, not for His own well being but for His people. He has done for me what I couldn't possibly do for myself. But not only has He lived that life of perfect obedience, He offered Himself as a perfect sacrifice to satisfy the justice and the righteousness of God.
The great misconception in our day is this: that God isn't concerned to protect His own integrity. He's a kind of wishy-washy deity, who just waves a wand of forgiveness over everybody. No. For God to forgive you is a very costly matter. It cost the sacrifice of His own Son. So valuable was that sacrifice that God pronounced it valuable by raising Him from the dead – so that Christ died for us, He was raised for our justification. So the gospel is something objective. It is the message of who Jesus is and what He did. And it also has a subjective dimension. How are the benefits of Jesus subjectively appropriated to us? How do I get it? The Bible makes it clear that we are justified not by our works, not by our efforts, not by our deeds, but by faith–and by faith alone. The only way you can receive the benefit of Christ's life and death is by putting your trust in Him–and in Him alone. You do that, you're declared just by God, you're adopted into His family, you're forgiven of all of your sins, and you have begun your pilgrimage for eternity.
---
The Gospel In A Nutshell
Now, with regard to this rule of faith—that we may from this point acknowledge what it is which we defend—it is, you must know, that which prescribes the belief that there is one only God, and that He is none other than the Creator of the world, who produced all things out of nothing through His own Word, first of all sent forth; that this Word is called His Son, and, under the name of God, was seen "in diverse manners" by the patriarchs, heard at all times in the prophets, at last brought down by the Spirit and Power of the Father into the Virgin Mary, was made flesh in her womb, and, being born of her, went forth as Jesus Christ; thenceforth He preached the new law and the new promise of the kingdom of heaven, worked miracles; having been crucified, He rose again the third day; (then) having ascended into the heavens, He sat at the right hand of the Father; sent instead of Himself the Power of the Holy Ghost to lead such as believe; will come with glory to take the saints to the enjoyment of everlasting life and of the heavenly promises, and to condemn the wicked to everlasting fire, after the resurrection of both these classes shall have happened, together with the restoration of their flesh. This rule, as it will be proved, was taught by Christ, and raises amongst ourselves no other questions than those which heresies introduce, and which make men heretics.
Tertullian, "On Prescription Against Heretics," Chapter XIIl
---
This post is adapted from the tract "What Is the Gospel?" by Greg Gilbert.
---
A Message from God
What exactly do Christians mean when they talk about the "gospel of Jesus Christ"? Since the word "gospel" means "good news," when Christians talk about the gospel, they're simply telling the good news about Jesus! It's a message from God saying, "Good news! Here is how you can be saved from my judgment!" That's an announcement you can't afford to ignore.
Why Is the Gospel Good News?
So, what is the good news about Jesus Christ?
Since the earliest Christians announced the good news about Jesus, it has been organized around these questions:
Who made us, and to whom are we accountable?
What is our problem?
What is God's solution to our problem?
How can I be included in his solution?
Christians through the centuries since Christ have answered those questions with the same truth from the Bible.
We are accountable to God.
Our problem is our sin against him.
God's solution is salvation through Jesus Christ.
We come to be included in that salvation by faith and repentance.
Let's summarize those points like this: God, Mankind, Jesus Christ, and Our Response.
God
The first thing to know about the good news of Jesus is that "in the beginning, God created the heavens and the earth" (Gen. 1:1). Everything starts from that point, so if you get that point wrong then everything else that follows will be wrong. Because God created everything—including us—he has the right to tell us how to live. You have to understand that in order to understand the good news about Jesus. To understand just how glorious and life-giving the gospel of Jesus Christ is, we have to understand that God is also holy and righteous. He is determined never to ignore or tolerate sin. Including ours!
Mankind
When God created the first human beings, Adam and Eve, he intended for them to live under his righteous rule in perfect joy—obeying him and living in fellowship with him. When Adam disobeyed God, though, and ate the one fruit that God had told him not to eat, that fellowship with God was broken. Moreover, Adam and Eve had declared rebellion against God. They were denying his authority over their lives.
It's not just Adam and Eve who are guilty of sin. The Bible says, "All have sinned and fall short of the glory of God" (Romans 3:23). Sin is the rejection of God himself and his authority over those to whom he gives life.
Once you understand sin in that light, you begin to understand why "the wages of sin is death" (Romans 6:23). That's not just physical death, but spiritual death, a forceful separating of our sinful, rebellious selves from the presence of God forever. The Bible teaches that the final destiny for unbelieving sinners is eternal, active judgment in a place called "hell."
But . . .
Jesus Christ
The word "Christ" means "anointed one," referring to anointing a king with oil when he is crowned. So, when we say "Jesus Christ," we're saying that Jesus is a King!
When Jesus began his public ministry, he told the people, "The kingdom of God is at hand. Repent and believe the good news!" As Jesus died on a cross, the awful weight of all our sins fell on his shoulders. The sentence of death God had pronounced against rebellious sinners struck. And Jesus died. For you and me!
But the story doesn't end there. Jesus the Crucified is no longer dead. The Bible tells us that he rose from the grave. Jesus's rising from the grave was God's way of saying, "What Jesus claimed about who he is and what he came to do is true!"
Our Response
What does God expect us to do with the information that Jesus died in our place so we can be saved from God's righteous wrath against our sins? He expects us to respond with repentance and faith.
To repent of our sins means to turn away from our rebellion against God. Repentance doesn't mean we'll bring an immediate end to our sinning. It does mean, though, that we'll never again live at peace with our sins.
Not only that, but we also turn to God in faith. Faith is reliance. It's a promise-founded trust in the risen Jesus to save you from your sins. If God is ever to count us righteous, he'll have to do it on the basis of someone else's record, someone who's qualified to stand in as our substitute. And that's what happens when a person is saved by Jesus: All our sins are credited to Jesus who took the punishment for them, and the perfect righteousness of Jesus is then credited to us when we place our trust in what he has done for us! That's what faith means—to rely on Jesus, to trust in him alone to stand in our place and win a righteous verdict from God!
---
Ravi Zacharias explains the gospel in two minutes:
---
The five main components of the gospel can be remembered on 5 fingers of one hand. Here they are:
1) Jesus' birth
2) Jesus' life
3) Jesus' death
4) Jesus' resurrection
5) Jesus' ascension
Obviously each point can be elaborated on depending on how much time you have. Here's the short version:
1) Jesus' birth – Jesus, God himself, the creator of the universe, the Messiah, became a human being – took on flesh, and was born of a virgin.
2) Jesus' life – Jesus lived a life of perfect obedience to his Father. Though he was tempted in every way as we are, he never once sinned.
3) Jesus' death – on the cross, Jesus himself took all our sins and paid for them. God the father counted all our sins to Jesus as if he himself had personally committed them. Then Jesus bore God's wrath towards sin – the punishment we deserved – as a substitute for us.
4) Jesus' resurrection – within 3 days, Jesus rose physically from the dead, proving that his sacrifice for sins have been accepted by God, since the punishment for sin was death. Jesus was seen by numerous people after he rose including 500 at one time (1 Corinthians 15).
5) Jesus' ascension – Jesus ascended physically into heaven where he reigns as King of kings and Lord of lords. And someday he will return to the earth.
That's the gospel, the good news, and if we believe in Jesus Christ and this good news and call upon him he will save us from our sins and give us eternal life.
That's a simple way to remember the gospel – five fingers. Even a child can do it. So ask God to give you opportunities to share his good news today.
---
Please take the time to watch this clip, so that you might understand the authentic Gospel
---
This is the Gospel:
Friend, God is holy. There is a God in heaven who has created you and me, and He is the authority over both of us. He is perfectly holy. "In Him is Light, and there is no darkness at all" (1 John 1:5). And the problem with that is that if we want to have fellowship with God, we have to be light and no darkness at all. And yet here's the problem: we are darkness. We are sinful. We've all broken His law. We've all lied, stolen, we've all looked with lust, we've all been angry with our brothers in our hearts. We've all fallen short of the glorious standard of perfection that God requires (Rom 3:23). And there's nothing we can do about it. No amount of works, no amount of contrition, no amount of bad feelings, no amount of church attendance, no amount of Bible reading, no amount of evangelism can earn forgiveness of our sins and the righteousness which God requires (Titus 3:5; cf. Isa 64:6).
And yet God is gracious, and He loves us, and as His creatures He wants to display His glory in us by rescuing us from that. And so He sent His Son—God in the flesh, the Lord Jesus Christ—to be born as a helpless little baby (John 1:14; 3:16; Col 2:9). God of the universe, Sustainer of the universe, Himself being sustained in the womb of a teenage Hebrew girl, and upholding the world by the word of His power (Heb 1:3) while He is upheld by the nutrients from her own body! Unspeakable! And in great humility, He grows up with the growing pains of life in a fallen world, though He Himself never being with any sin—without sin entirely (2 Cor 5:21; Heb 4:15; 7:26). And He lives a perfectly righteous life. The way that you and I have failed to live before God—the way that we have failed in thought, word, and deed, and fallen short of God's glory—Christ never did. Not even a thought. He loved God, His Father, perfectly. He always walked in perfect righteousness. He lived the life that you were commanded to live, that I was commanded to live, that we failed to live. He lived that perfect life that God is worthy of.
And not only did He live for us, He died for us. He went to the cross. Our sin demanded death. Our sin demanded eternal punishment. Our sin demanded wrath—just wrath exercised on us for eternity (Rom 6:23). But because of the infinite worth of Christ's person, He was on that cross. And on that cross, God exercised upon Him the full fury of His own anger (Rom 3:24–26; 2 Cor 5:21; Gal 3:10–14), that was rightly due to me and rightly due to you, and that you will experience if you don't turn from your sin and trust in this Messiah. Christ was born, lived, died, and was raised (1 Cor 15:3–4). And He rose from the grave after being dead, demonstrating His victory over sin and death.
And now God promises that if you turn from your sin, if you repudiate all that you are and all that you were and all that you love, and you turn away from a life of pursuing sin—and if you repudiate not only your bad works but your good works, if you turn from trying to earn your salvation by all the good deeds that you might want to do as a moral person—if you turn away from all of that (Acts 17:30–31), and you trust in Christ alone for righteousness (Phil 3:7–8; cf. Rom 3:28; 10:4), God promises that He will forgive you. He will have treated Christ on the cross as if Christ lived your life. And He will then treat you, justly and legally and righteously, as if you lived Christ's perfect life of righteousness (2 Cor 5:21). And you can be saved to know the God you were created to love and enjoy. You can have the fullness of joy, the eternal pleasures that are at the Father's right hand in heaven (Ps 16:11), and begin even now, because eternal life is to know God (John 17:3).
Friend, would you repent? Would you turn from your sin and trust in this perfect Savior to avail for you before God, to pay for your sin and to provide your righteousness?
---
Ready to start your new life with God?
Who do you think that I am?
With that brief question Jesus Christ confronted His followers with the most important issue they would ever face. He had spent much time with them and made some bold claims about His identity and authority. Now the time had come for them either to believe or deny His teachings.
Who do you say Jesus is? Your response to Him will determine not only your values and lifestyle, but your eternal destiny as well.
Consider what the Bible says about Him: Read more
---
Resource Links
CanIKnowGod.com is a website inspired by LifesGreatestQuestion.com, with new content, images, audio and video that will help you understand more about who God is and how to know Him. The site is mobile responsive and has an infinite scroll which makes for a very user-friendly experience. After you indicate a decision on CanIKnowGod.com, you are directed to a page that details what it means to have a new and transformed life through Jesus Christ. There's even a Facebook page for daily updates, encouragement and scripture sharing.
Look to Jesus
Have you ever felt a little lost and wished there was a quick-start guide to your relationship with God? This is it!
30 Day Next Steps
John Beckett, a leading Christian businessman, has written a series to read over 30 days for new believers.
New Believers Guide
The New Believer's Guide is a series of articles designed to show you how to walk in the new life Christ has given you— a life of faith and freedom.
Jesus Booklet
Jesus is the Savior of the world. Discover who Jesus is today in this series.
About Christianity
Know Jesus Christ and your life will be transformed
---
The Perseverance (Security) of the Saints
Notice all the Scripture references!
It is not just a handful of texts that teach the perseverance of the saints: the entire gospel sustains and confirms it. The Father has chosen them before the foundation of the world (Eph. 1:4), ordained them to eternal life (Acts 13:48), to be conformed to the image of his Son (Rom. 8:29). This election stands (Rom. 9:11; Heb. 6:17) and in due time carries with it the calling and justification and glorification (Rom. 8:30). Christ, in whom all the promises of God are Yes and Amen (2 Cor. 1:20), died for those who were given him by the Father (John 17:6, 12) in order that he might give them eternal life and not lose a single one of them (6:40; 17:2); he therefore gives them eternal life and they will never be lost in all eternity; no one will snatch them out of his hand (6:39; 10:28).

The Holy Spirit who regenerates them remains eternally with them (14:16) and seals them for the day of redemption (Eph. 1:13; 4:30). The covenant of grace is firm and confirmed with an oath (Heb. 6:16–18; 13:20), unbreakable like a marriage (Eph. 5:31–32), like a testament (Heb. 9:17), and by virtue of that covenant, God calls his elect. He inscribes the law upon their inmost being, puts his fear in their heart (Heb. 8:10; 10:14ff.), will not let them be tempted beyond their strength (1 Cor. 10:13), confirms and completes the good work he has begun in them (1 Cor. 1:9; Phil. 1:6), and keeps them for the return of Christ to receive the heavenly inheritance (1 Thess. 5:23; 2 Thess. 3:3; 1 Pet. 1:4–5).

In his intercession before the Father, Christ acts in such a way that their faith may not fail (Luke 22:32), that in the world they may be kept from the evil one (John 17:11, 20), that they may be saved for all times (Heb. 7:20), that their sins will be forgiven them (1 John 2:1), and that they may all be where he is to behold his glory (John 17:24). The benefits of Christ, which the Holy Spirit imparts to them, are all irrevocable (Rom. 11:29). Those who are called are also glorified (8:30). Those who are adopted as children are heirs of eternal life (8:17; Gal. 4:7). Those who believe have eternal life already here and now (John 3:16). That life itself, being eternal, cannot be lost. It cannot die since it cannot sin (1 John 3:9). Faith is a firm ground (Heb. 11:1), hope is an anchor (6:19) and does not disappoint us (Rom. 5:5), and love never ends (1 Cor. 13:8).
Herman Bavinck, Reformed Dogmatics: Holy Spirit, Church, and New Creation, volume 4 (Grand Rapids, MI: Baker, 2008), 270.
---
Truth2Freedom Blog Disclaimer
This post was originally posted on:
https://truth4freedom.wordpress.com
(Alternative News, Apologetics, Current Events, Commentary, Opinion, Theology, Discernment Blog, Devotionals, Christian Internet Evangelism & Missions Activist).
"A simple layman armed with Scripture is to be believed above a pope or a council without it…" – Martin Luther
"In essentials, unity; in non-essentials, liberty; in all things, charity."
— Augustine
This blog is an aggregator of news and information that we believe will provide articles that will keep people informed about current trends, current events, discussions and movements taking place within our church and culture.
In accordance with Title 17 U.S.C. Section 107,material here is distributed without profit for research and educational purposes.
A headline link on this blog post doesn't necessarily mean that there is agreement or approval with all the views and opinions expressed within the headline linked article. Caution is also warranted with regards to the advertisements and links that are embedded within the headline linked article.
*Please note that the preceding blog post content is formed by my personal conviction, values, worldview and opinion. It is not necessarily the opinion of any entity by which I am employed, any church at which I am a member, any church which I attend. Any copyrighted material displayed or referenced is done under the doctrine of fair use.