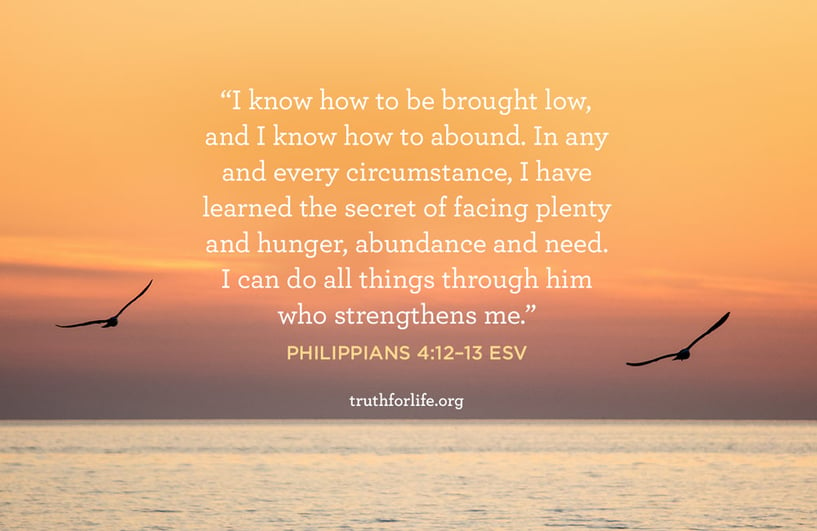 The Secret of Contentment
(Philippians 4:10–19)
But I rejoiced in the Lord greatly, that now at last you have revived your concern for me; indeed, you were concerned before, but you lacked opportunity. Not that I speak from want, for I have learned to be content in whatever circumstances I am. I know how to get along with humble means, and I also know how to live in prosperity; in any and every circumstance I have learned the secret of being filled and going hungry, both of having abundance and suffering need. I can do all things through Him who strengthens me. Nevertheless, you have done well to share with me in my affliction. You yourselves also know, Philippians, that at the first preaching of the gospel, after I left Macedonia, no church shared with me in the matter of giving and receiving but you alone; for even in Thessalonica you sent a gift more than once for my needs. Not that I seek the gift itself, but I seek for the profit which increases to your account. But I have received everything in full and have an abundance; I am amply supplied, having received from Epaphroditus what you have sent, a fragrant aroma, an acceptable sacrifice, well-pleasing to God. And my God will supply all your needs according to His riches in glory in Christ Jesus. (4:10–19)
Contentment is a highly prized, but elusive virtue. Though it comes only from being rightly related to God and trusting His sovereign, loving, purposeful providence, people nevertheless seek it where it cannot be found—in money, possessions, power, prestige, relationships, jobs, or freedom from difficulties. But by that definition, contentment is unattainable, for it is impossible in this fallen world to be completely free from problems. In sharp contrast to the world's understanding of contentment is this simple definition of spiritual contentment penned by the Puritan Jeremiah Burroughs: "Christian contentment is that sweet, inward, quiet, gracious frame of spirit, which freely submits to and delights in God's wise and fatherly disposal in every condition" (The Rare Jewel of Christian Contentment [Reprint; Edinburgh: Banner of Truth, 1964], 19).
The Bible has much to say about contentment. For example, John the Baptist said to some soldiers who asked him how to manifest genuine repentance, "Be content with your wages" (Luke 3:14). To Timothy Paul wrote, "If we have food and covering, with these we shall be content" (1 Tim. 6:8), a thought echoed by the writer of Hebrews: "Make sure that your character is free from the love of money, being content with what you have" (Heb. 13:5). Paul was even "well content with weaknesses, with insults, with distresses, with persecutions, with difficulties, for Christ's sake" (2 Cor. 12:10), because he knew that the "godliness" produced by those trials "actually is a means of great gain when accompanied by contentment" (1 Tim. 6:6). The Bible not only identifies contentment as a virtue, but also prescribes it as a command.
Before concluding this letter to his beloved Philippian congregation, Paul wanted to express his deeply felt gratitude to them. He had had a special relationship with them since the founding of the church at Philippi. At one point in Paul's ministry many years earlier, they were the only church that had supported him financially (4:15–16). Now they had again sent him a gift, and 4:10–19 is Paul's thank-you note to them for it.
The Philippians' generosity was especially meaningful to Paul because it reached him during a very trying time in his life. He was a prisoner in Rome, confined to a small apartment (Acts 28:30) and guarded around the clock by a Roman soldier (Acts 28:16). He could no longer minister with the freedom he had once enjoyed. Being unable to work to support himself, he was in a dependent condition, probably existing on a bare subsistence level on help from generous friends. The only contact he had with the churches that were his constant concern (2 Cor. 11:28) was through letters or the occasional visitor who sought him out. Constantly looming over him was the anticipation of his trial before the emperor—the infamous Nero (cf. Acts 25:11–12, 21; 26:32; 27:24; 28:19). Commenting on this period in Paul's life, F. B. Meyer wrote that he was "deprived of every comfort, and cast as a lonely man on the shores of the great strange metropolis, with every movement of his hand clanking a fetter, and nothing before him but the lion's mouth or the sword" (The Epistle to the Philippians [Grand Rapids: Baker, 1952], 242).
Beneath the surface of Paul's expression of thanks to the Philippians is the picture of a man utterly content in spite of such severe circumstances. In the direct statement of 4:9, Paul offered himself as an example of spiritual stability. In verses 10–19, as he thanked the Philippians for their gift, he indirectly offered himself as an example of contentment. Paul knew how to rejoice in every circumstance and be free from anxiety and worry, because his heart was guarded by the peace of God and the God of peace. His example is especially relevant to our utterly discontented culture.
Five principles of contentment flow from this seemingly mundane conclusion to Paul's letter. A contented person is confident in God's providence, satisfied with little, independent from circumstances, strengthened by divine power, and preoccupied with the well-being of others.
A Contented Person Is Confident in God's Providence
But I rejoiced in the Lord greatly, that now at last you have revived your concern for me; indeed, you were concerned before, but you lacked opportunity. (4:10)
Ten years had passed since Paul's ministry in Philippi had resulted in the founding of the church in that city. The Philippians had generously supported him when he left Philippi to minister in the Macedonian cities of Thessalonica and Berea (Acts 17:1–13). When Paul moved south into Achaia, the Philippians continued their support as he ministered in Athens and Corinth (Acts 17:14–18:18). As the years passed they had consistently been concerned about Paul, but lacked any opportunity to provide support for him. The reason for that lack is not given. Perhaps it was due to their preoccupation with their crushing poverty (cf. 2 Cor. 8:1–2). Or they may have been unaware of the apostle's needs, or unable to locate him.
But recently opportunity arose when Epaphroditus arrived in Rome, bringing with him a generous gift from the Philippians (4:18) for which Paul rejoiced in the Lord greatly. He did so not primarily because the gift met his need, but because it gave evidence of their love for him. His joy overflowed that now at last, after ten years, they had revived their concern for him. The Greek verb translated revived is a horticultural term describing a plant flowering again. The Philippians' generous affection for Paul, after lying dormant for nearly ten years, had once again bloomed. The apostle's statement indeed, you were concerned before, but you lacked opportunity was intended to allay any misunderstanding on the Philippians' part. Paul knew they were concerned before this, but he understood that they had lacked the opportunity to support him (cf. 2 Cor. 8:12).
Paul's gracious attitude reflects his patient confidence in God's sovereign providence. He was certain that God in due time would arrange his circumstances to meet his needs. There was no panic on his part, no attempt to manipulate people, no taking matters into his own hands. Paul was content because he knew that the times, seasons, and opportunities of life are controlled by the sovereign God "who works all things after the counsel of His will" (Eph. 1:11), thereby causing "all things to work together for good to those who love God, to those who are called according to His purpose" (Rom. 8:28). Those who seek to control their own lives will inevitably be frustrated. A confident trust in God's providence is foundational to contentment.
Providence and miracle are the two ways God acts in the world. A miracle is God's direct, sovereign intervention into the natural world. It is an event so contrary to the normal course of events that there is no scientific or naturalistic explanation for it other than the power of God. There is no natural insight to explain the parting of the Red Sea, restoring the sight of those blind from birth, or raising people from the dead.
On the other hand, God's providence is not miraculous in the sense that it interrupts the natural order. Rather, it allows for all the contingencies, events, words, acts, decisions, and elements of normal life. God supernaturally weaves them all together to fit His purpose exactly. This is as supernatural as a miracle. Solomon acknowledged God's providential control over events when he wrote, "The mind of man plans his way, but the Lord directs his steps" (Prov. 16:9; cf. 19:21; Jer. 10:23; Acts 4:27–28; Phil. 2:13). God providentially arranged for Joseph to rise to a high position in Egypt to preserve His people. As he explained to his brothers, "As for you, you meant evil against me, but God meant it for good in order to bring about this present result, to preserve many people alive" (Gen. 50:20). God also providentially arranged for Esther to be in a position to save Israel, as Mordecai reminded her: "For if you remain silent at this time, relief and deliverance will arise for the Jews from another place and you and your father's house will perish. And who knows whether you have not attained royalty for such a time as this?" (Est. 4:14).
An understanding of God's sovereign, providential control of events is critical to contentment.
A Contented Person Is Satisfied with Little
Not that I speak from want, for I have learned to be content in whatever circumstances I am. (4:11)
Lest the Philippians misunderstand his statement in verse 10, Paul quickly added a disclaimer. He did not mean to imply that he spoke from want when he thanked them for their gift. In fact, he had learned to be content in whatever circumstances he found himself. Though his situation was extremely difficult, Paul was not discontent. It did not matter that he was a prisoner, living in a small apartment, chained to a Roman soldier, subsisting on a sparse diet. None of that affected his contentment, because he was satisfied with what little he had. His contentment was not affected by his physical deprivations.
The Greek word translated content in verse 11 appears only here in the New Testament. In extra-biblical Greek it was used to speak of being self-sufficient, having enough, or not being dependent on others. One ancient writer used the word in reference to a country that supplied itself and had no need of imports. True contentment comes only from God, and enables believers to be satisfied and at ease in the midst of any problem.
The contented attitude of someone like Paul or the Shunammite woman, who when asked what she needed replied simply, "I live among my own people" (2 Kings 4:13), is incomprehensible to today's society. People are not content with either little or much. In fact, it seems that those who are the wealthiest are often the most miserable and discontented. Instead, people are obsessed with delineating their needs and loudly demanding that they be met. Need has become the number one value in our culture. Starting from the humanistic premise that God does not exist and man is therefore ultimate, the goal of life for people becomes getting their needs met.
Adding to the discontent is the blurring of the distinction between needs and wants. In actual practice, virtually everything has become a "need." Thus, men "need" better jobs, fancier cars, and bigger homes; women "need" careers outside the home, and, paradoxically, "need" children; young people "need" unending sexual encounters to liberate their repressed egos; children "need" the freedom to express themselves outside the "bondage" of parental control. Like a hamster running around and around on a wheel and going nowhere, people desperately chase the contentment that is always tantalizingly just out of reach. Even the church has begun to build its ministry around people's "felt needs."
But Paul knew that the chief end of man is not to have his needs met, but to glorify God and enjoy Him forever. Because of that, he was satisfied with whatever God graciously granted him. As he wrote to Timothy, "If we have food and covering, with these we shall be content" (1 Tim. 6:8). Although he wrote to the Corinthians, "The Lord directed those who proclaim the gospel to get their living from the gospel" (1 Cor. 9:14), Paul often chose not to exercise that right (cf. Acts 20:34; 1 Cor. 9:12, 15; 1 Thess. 2:9; 2 Thess. 3:8). He worked hard, and was content to let God control the results. When difficult times came, Paul remained content because he was satisfied with little.
A Contented Person Is Independent from Circumstances
I know how to get along with humble means, and I also know how to live in prosperity; in any and every circumstance I have learned the secret of being filled and going hungry, both of having abundance and suffering need. (4:12)
Paul expands on what he alluded to in the previous verse. The twice-repeated phrase I know how … I also know how reveals that he had learned by experience and spiritual maturity to live above his circumstances and not to let them affect his contentment. That is an important lesson for believers to learn, for it is the difficult circumstances in life that most frequently steal our contentment.
Paul's statement I know how to get along with humble means, to be hungry, and to suffer need indicates that he had had his share of poverty. He knew what it was to get by with meager material things. He also knew how to live in prosperity, to be filled, and to have an abundance when God graciously granted him more than he needed. All six of those terms refer to the material, earthly needs of this life, not to spiritual needs.
Paul was no ivory tower theologian; he had lived and ministered in the trenches. His life was not exactly a testimonial for the prosperity gospel. The apostle's trials began at Damascus shortly after his conversion. Enraged that Paul
kept increasing in strength and confounding the Jews who lived at Damascus by proving that this Jesus is the Christ, … the Jews plotted together to do away with him, but their plot became known to [Paul]. They were also watching the gates day and night so that they might put him to death; but his disciples took him by night and let him down through an opening in the wall, lowering him in a large basket. (Acts 9:22–25)
At Lystra on his first missionary journey, hostile "Jews came from Antioch and Iconium, and having won over the crowds, they stoned Paul and dragged him out of the city, supposing him to be dead" (Acts 14:19). Many of the Philippian believers no doubt remembered what happened to Paul and his fellow preacher Silas in Philippi:
The crowd rose up together against them, and the chief magistrates tore their robes off them and proceeded to order them to be beaten with rods. When they had struck them with many blows, they threw them into prison, commanding the jailer to guard them securely; and he, having received such a command, threw them into the inner prison and fastened their feet in the stocks. (Acts 16:22–24)
Things did not get much better for the apostle in Thessalonica, where
the Jews, becoming jealous and taking along some wicked men from the market place, formed a mob and set the city in an uproar; and attacking the house of Jason, they were seeking to bring them out to the people. When they did not find them, they began dragging Jason and some brethren before the city authorities, shouting, "These men who have upset the world have come here also; and Jason has welcomed them, and they all act contrary to the decrees of Caesar, saying that there is another king, Jesus." They stirred up the crowd and the city authorities who heard these things. And when they had received a pledge from Jason and the others, they released them. The brethren immediately sent Paul and Silas away by night to Berea. (Acts 17:5–10)
Trouble, in the form of hostile, unbelieving Jews, followed Paul from Thessalonica to Berea: "But when the Jews of Thessalonica found out that the word of God had been proclaimed by Paul in Berea also, they came there as well, agitating and stirring up the crowds" (Acts 17:13). Forced to flee Berea, Paul went to Athens, where he was mocked and ridiculed by the skeptical Greek philosophers gathered on Mars Hill (Acts 17:18–34). From Athens the apostle went to Corinth where, "while Gallio was proconsul of Achaia, the Jews with one accord rose up against Paul and brought him before the judgment seat" (Acts 18:12). After ministering for three months in Greece, "a plot [to kill Paul] was formed against him by the Jews as he was about to set sail for Syria" (Acts 20:3). When he got to Jerusalem, Paul was attacked and savagely beaten after Jews from Asia Minor recognized him in the temple (Acts 21:26–30). Rescued from certain death by the quick action of a Roman officer (Acts 21:31–35), Paul began his long stay in Roman custody. Two years later, after hearings before the Sanhedrin and the Roman governor failed to resolve the situation, Paul exercised his right as a Roman citizen to appeal to Caesar. After a harrowing sea voyage, which included a terrifying, two-week-long storm that ended in a shipwreck (Acts 27), Paul finally arrived in Rome (Acts 28). As he penned this letter to the Philippians, Paul was again a prisoner in Rome.
Summing up his arduous, difficult, painful life Paul wrote,
Are they servants of Christ?—I speak as if insane—I more so; in far more labors, in far more imprisonments, beaten times without number, often in danger of death. Five times I received from the Jews thirty-nine lashes. Three times I was beaten with rods, once I was stoned, three times I was shipwrecked, a night and a day I have spent in the deep. I have been on frequent journeys, in dangers from rivers, dangers from robbers, dangers from my countrymen, dangers from the Gentiles, dangers in the city, dangers in the wilderness, dangers on the sea, dangers among false brethren; I have been in labor and hardship, through many sleepless nights, in hunger and thirst, often without food, in cold and exposure. Apart from such external things, there is the daily pressure on me of concern for all the churches. Who is weak without my being weak? Who is led into sin without my intense concern? If I have to boast, I will boast of what pertains to my weakness. The God and Father of the Lord Jesus, He who is blessed forever, knows that I am not lying. In Damascus the ethnarch under Aretas the king was guarding the city of the Damascenes in order to seize me, and I was let down in a basket through a window in the wall, and so escaped his hands. (2 Cor. 11:23–33)
In all Paul's unique and constant sufferings, he had learned the secret of rising above them. In the midst of all his trials, he kept his focus on heavenly realities (cf. Col. 3:1–2). In 2 Corinthians 4:17, the apostle wrote, "For momentary, light affliction is producing for us an eternal weight of glory far beyond all comparison." With that perspective, is it any wonder that no amount of pain, suffering, or disappointment could affect his contentment?
A Contented Person Is Strengthened by Divine Power
I can do all things through Him who strengthens me. (4:13)
No matter how difficult his struggles may have been, Paul had a spiritual undergirding, an invisible means of support. His adequacy and sufficiency came from his union with the adequate and sufficient Christ: "I have been crucified with Christ; and it is no longer I who live, but Christ lives in me; and the life which I now live in the flesh I live by faith in the Son of God, who loved me and gave Himself up for me" (Gal. 2:20).
When Paul wrote I can do all things he had in mind physical, not spiritual things. Ischuō (I can do) means "to be strong," "to have power," or "to have resources." It is variously translated "overpowered" (Acts 19:16), "prevailing" (Acts 19:20), and "effective" (James 5:16). The Greek text emphasizes the word translated all things (a reference to physical needs; cf. vv. 11–12) by placing it first in the sentence. Paul was strong enough to endure anything through Him who strengthen[ed] him (cf. 1 Tim. 1:12; 2 Tim. 4:17). The apostle does not, of course, mean that he could physically survive indefinitely without food, water, sleep, or shelter. What he is saying is that when he reached the limit of his resources and strength, even to the point of death, he was infused with the strength of Christ. He could overcome the most dire physical difficulties because of the inner, spiritual strength God had given him. In the words of Isaiah,
He gives strength to the weary, and to him who lacks might He increases power. Though youths grow weary and tired, and vigorous young men stumble badly, yet those who wait for the Lord will gain new strength; they will mount up with wings like eagles, they will run and not get tired, they will walk and not become weary. (Isa. 40:29–31)
Perhaps the clearest illustration of this truth in Paul's life comes from 2 Corinthians 12:7–10:
Because of the surpassing greatness of the revelations, for this reason, to keep me from exalting myself, there was given me a thorn in the flesh, a messenger of Satan to torment me—to keep me from exalting myself! Concerning this I implored the Lord three times that it might leave me. And He has said to me, "My grace is sufficient for you, for power is perfected in weakness." Most gladly, therefore, I will rather boast about my weaknesses, so that the power of Christ may dwell in me. Therefore I am well content with weaknesses, with insults, with distresses, with persecutions, with difficulties, for Christ's sake; for when I am weak, then I am strong.
Paul was tormented by a "thorn in the flesh," most likely a demon who was behind the false teachers tearing up his beloved church in Corinth. This was the worst of all trials for him, because of his "concern for all the churches" (2 Cor. 11:28). He repeatedly begged the Lord to deliver him from the torment of that demonic attack on the church. But instead of delivering him, the Lord pointed Paul to the sufficiency of His grace. Contentment comes to believers who rely on the sustaining grace of Christ infused into believers when they have no strength of their own. In that sense, contentment is a by-product of distress.
Lest any doubt the sufficiency of Christ's strengthening power, it is the same power Paul described in his prayer in Ephesians 3:
For this reason I bow my knees before the Father, from whom every family in heaven and on earth derives its name, that He would grant you, according to the riches of His glory, to be strengthened with power through His Spirit in the inner man.… Now to Him who is able to do far more abundantly beyond all that we ask or think, according to the power that works within us. (Eph. 3:14–16, 20)
God's power that indwells believers is far more than sufficient to strengthen and sustain them in any trial. Contentment belongs to those who confidently trust in that power rather than in their own resources. Jeremiah Burroughs observes,
A Christian finds satisfaction in every circumstance by getting strength from another, by going out of himself to Jesus Christ, by his faith acting upon Christ, and bringing the strength of Jesus Christ into his own soul, he is thereby enabled to bear whatever God lays on him, by the strength that he finds from Jesus Christ.… There is strength in Christ not only to sanctify and save us, but strength to support us under all our burdens and afflictions, and Christ expects that when we are under any burden, we should act our faith upon him to draw virtue and strength from him. (The Rare Jewel of Christian Contentment, 63)
It is important to note that only those who live lives of obedience to God's will can count on His power to sustain them. Those whose continued sin has led them into the pit of despair cannot expect God to bring them contentment from their circumstances. In fact, He may even add to their difficulties to chasten them and bring them to repentance.
Martyn Lloyd-Jones compares the flow of God's power into the believer's life to the issue of physical health:
Now I suggest that that is analogous to this whole subject of power in one's life as a Christian. Health is something that results from right living. Health cannot be obtained directly or immediately or in and of itself. There is a sense in which I am prepared to say that a man should not think of his health as such at all. Health is the result of right living, and I say exactly the same thing about this question of power in our Christian lives.
Or let me use another illustration. Take this question of preaching. No subject is discussed more often than power in preaching. "Oh, that I might have power in preaching," says the preacher and he goes on his knees and prays for power. I think that that may be quite wrong. It certainly is if it is the only thing that the preacher does. The way to have power is to prepare your message carefully. Study the Word of God, think it out, analyse it, put it in order, do your utmost. That is that message God is most likely to bless—the indirect approach rather than the direct. It is exactly the same in this matter of power and ability to live the Christian life. In addition to our prayer for power and ability we must obey certain primary rules and laws.
I can therefore summarise the teaching like this. The secret of power is to discover and to learn from the New Testament what is possible for us in Christ. What I have to do is to go to Christ. I must spend my time with Him. I must meditate upon Him, I must get to know Him. That was Paul's ambition—"that I might know Him." I must maintain my contact and communion with Christ and I must concentrate on knowing Him.
What else? I must do exactly what He tells me. I must avoid things that would hamper. If in the midst of persecution we want to feel as Paul felt, we must live as Paul lived. I must do what He tells me, both to do and not to do. I must read the Bible, I must exercise, I must practise the Christian life, I must live the Christian life in all its fullness. (Spiritual Depression: Its Causes and Cure [Grand Rapids: Eerdmans, 1965], 298–99)
God's power will bring contentment to those who have no strength of their own, but only if they have been living righteously. There is no quick fix, no shortcut to contentment. It comes only to those strengthened by divine power, and that divine power does not come from counselors, therapy, or self-help formulas, but only from consistent godly living.
A Contented Person Is Preoccupied with the Well-Being of Others
Nevertheless, you have done well to share with me in my affliction. You yourselves also know, Philippians, that at the first preaching of the gospel, after I left Macedonia, no church shared with me in the matter of giving and receiving but you alone; for even in Thessalonica you sent a gift more than once for my needs. Not that I seek the gift itself, but I seek for the profit which increases to your account. But I have received everything in full and have an abundance; I am amply supplied, having received from Epaphroditus what you have sent, a fragrant aroma, an acceptable sacrifice, well-pleasing to God. And my God will supply all your needs according to His riches in glory in Christ Jesus. (4:14–19)
A final strand in the tapestry of contentment woven by Paul is concern for others. Those who live only for themselves will never be content, because contentment for them can come only when their circumstances are exactly as they want them to be. And that will never happen. Only those who unselfishly put others' well-being above their own will find contentment. Paul prayed that the Philippians' "love may abound still more and more" (1:9); one of the qualities of true biblical love is unselfishness (1 Cor. 13:5). He also exhorted them, "Do nothing from selfishness or empty conceit, but with humility of mind regard one another as more important than yourselves; do not merely look out for your own personal interests, but also for the interests of others" (2:3–4). That is the attitude "which was also in Christ Jesus" (2:5); if He had looked out only for His own interests, he would never have left heaven to sacrifice Himself for sinful, fallen people.
Nevertheless introduces an important transition in Paul's thought. What he had written in verses 10–13 could easily have sent the wrong message to the Philippians. Despite their poverty (cf. 2 Cor. 8:1–2), they had sent a sacrificial gift to Paul through Epaphroditus (4:18). After staying in Rome for a while and ministering to the apostle, Epaphroditus had returned to Philippi, bringing this letter from Paul with him. In it the church would read, "Not that I speak from want, for I have learned to be content in whatever circumstances I am"; "I have learned the secret of being filled and going hungry, both of having abundance and suffering need"; and "I can do all things through Him who strengthens me" (4:11–13). If the letter had ended at that point, the Philippians would have concluded that Paul neither needed nor appreciated their sacrificial gift to him.
To make certain that the Philippians did not misunderstand him, Paul hastened to reassure them that they had done well (kalōs; something noble or beautiful in character) to share with him in his affliction. But he then needed to explain to them how their gift could have been a noble act if he did not need it.
Paul began by taking his readers back ten years to his first preaching of the gospel in Philippi. During that time, and even after he left Macedonia for the Achaian cities of Athens and Corinth, no other church shared with him in the matter of giving and receiving. That phrase reflects business terminology. The word translated matter is sometimes translated "accounts" (Matt. 18:23; 25:19) or "accounting" (Luke 16:2) and the terms giving and receiving can mean "credit" and "debit." Evidently Paul was a careful steward of his resources and kept an account of his receipts and expenditures. Even before he left Macedonia the Philippians supported him; during his ministry in Thessalonica they sent a gift more than once for his needs. Their generosity, along with Paul's own hard work, allowed him to minister free of charge in Thessalonica (1 Thess. 2:9; 2 Thess. 3:8) and Corinth (Acts 18:5; 2 Cor. 11:8).
Paul could rejoice over their gift yet still be content in God's sovereign provision for him because he was selfless. That selflessness led him to write, Not that I seek the gift itself, but I seek for the profit which increases to your account (cf. Matt. 6:19–20; 1 Tim. 6:17–19). Their gift brought Paul joy not because of its personal material benefit to him, but because of its spiritual benefit to them. The principle that those who give generously will be blessed is taught repeatedly in Scripture. Solomon wrote, "There is one who scatters, and yet increases all the more, and there is one who withholds what is justly due, and yet it results only in want. The generous man will be prosperous, and he who waters will himself be watered" (Prov. 11:24–25). Later in Proverbs he added, "One who is gracious to a poor man lends to the Lord, and He will repay him for his good deed" (Prov. 19:17), "He who is generous will be blessed" (Prov. 22:9), and "He who gives to the poor will never want" (Prov. 28:27). In Luke 6:38 Jesus said, "Give, and it will be given to you. They will pour into your lap a good measure—pressed down, shaken together, and running over. For by your standard of measure it will be measured to you in return." To the Corinthians Paul wrote, "Now this I say, he who sows sparingly will also reap sparingly, and he who sows bountifully will also reap bountifully" (2 Cor. 9:6). Paul himself was an example of one who generously gave to the poor, as he reminded the Ephesian elders: "In everything I showed you that by working hard in this manner you must help the weak and remember the words of the Lord Jesus, that He Himself said, 'It is more blessed to give than to receive' " (Acts 20:35).
Three statements summarize Paul's joy and gratitude. The Greek verb in the phrase I have received everything in full was commonly used in a commercial sense in extra-biblical Greek to denote payment in full. This statement is in effect Paul's receipt to the Philippians for their gift. Have an abundance translates a Greek verb that means "to overflow," "to have an excess," or "to have more than enough." The Greek verb in Paul's final statement I am amply supplied speaks of being filled up completely. Taken together those three phrases show that Paul, having received from Epaphroditus what they had sent to him, was overwhelmed by the Philippians' generosity.
Using sacrificial language from the Old Testament, Paul described the Philippians' gift as a fragrant aroma (cf. Gen. 8:20–21; Ex. 29:18; Lev. 1:9, 13, 17; Num. 15:3), an acceptable sacrifice (cf. Lev. 19:5; 22:29; Isa. 56:7), well-pleasing to God (cf. Ps. 51:19). Paul saw the Philippians' gift as a sacrificial act of worship to God. Such spiritual sacrifices are required of New Covenant believers instead of the animal sacrifices of the Old Covenant. In Romans 12:1 Paul commands believers, "Present your bodies a living and holy sacrifice, acceptable to God, which is your spiritual service of worship." The writer of Hebrews exhorts, "Through Him then, let us continually offer up a sacrifice of praise to God, that is, the fruit of lips that give thanks to His name. And do not neglect doing good and sharing, for with such sacrifices God is pleased" (Heb. 13:15–16). Peter reminds believers that they are "a holy priesthood, to offer up spiritual sacrifices acceptable to God through Jesus Christ" (1 Peter 2:5). Paul's joy that the Philippians would make such an acceptable sacrifice to God far surpassed his joy at receiving their gift.
Paul knew that the Philippians would not only receive spiritual blessings in heaven for their generosity, but also that God would supply all their physical needs in this life. The Philippians had sacrificially (cf. 2 Cor. 8:1–3) given of their earthly possessions to support God's servant, Paul. In return, God would amply supply their needs; He would not be in their debt. Having sown bountifully, they would reap bountifully (2 Cor. 9:6); having "honor[ed] the Lord from [their] wealth and from the first of all [their] produce … [their] barns will be filled with plenty and [their] vats will overflow with new wine" (Prov. 3:9–10). They would discover that it is impossible to outgive God.
The phrase according to His riches in glory in Christ Jesus reveals the extent to which God would supply the Philippians' needs. He would do so according to His riches, not out of them; His giving to them would be relative to the immensity of His eternal wealth, that is, as generously as is consistent with His riches in glory in Christ Jesus. The New Testament repeatedly presents Christ Jesus as the source of all of God's riches. In Him "are hidden all the treasures of wisdom and knowledge" (Col. 2:3); to the Colossians Paul wrote, "For it was the Father's good pleasure for all the fullness to dwell in Him.… For in Him all the fullness of Deity dwells in bodily form" (Col. 1:19; 2:9). "The God and Father of our Lord Jesus Christ … has blessed us with every spiritual blessing in the heavenly places in Christ" (Eph. 1:3). In Ephesians 1:23 the apostle described Jesus as "Him who fills all in all," and he reminded the Corinthians of "the grace of God which was given [them] in Christ Jesus, that in everything [they] were enriched in Him" (1 Cor. 1:4–5). Echoing that thought, Peter wrote, "His divine power has granted to us everything pertaining to life and godliness, through the true knowledge of Him who called us by His own glory and excellence" (2 Peter 1:3).
The crucial lessons in contentment illustrated here in the life of Paul may be summarized in five words: faith, humility, submission, dependence, and unselfishness. Those virtues characterize all who have learned to be content.[1]
---
The Church that Remembered
Philippians 4:10–18
I rejoice greatly in the Lord that at last you have renewed your concern for me. Indeed, you have been concerned, but you had no opportunity to show it. I am not saying this because I am in need, for I have learned to be content whatever the circumstances. I know what it is to be in need, and I know what it is to have plenty. I have learned the secret of being content in any and every situation, whether well fed or hungry, whether living in plenty or in want. I can do everything through him who gives me strength. Yet it was good of you to share in my troubles. Moreover, as you Philippians know, in the early days of your acquaintance with the gospel, when I set out from Macedonia, not one church shared with me in the matter of giving and receiving, except you only; for even when I was in Thessalonica, you sent me aid again and again when I was in need. Not that I am looking for a gift, but I am looking for what may be credited to your account. I have received full payment and even more; I am amply supplied, now that I have received from Epaphroditus the gifts you sent. They are a fragrant offering, an acceptable sacrifice, pleasing to God.
Throughout the history of Christianity individual churches have been remembered for different things, some good and some bad. In the first chapter of the Book of Romans there is a picture of a church that was conspicuous for its faith and is remembered even today because of it (Rom. 1:8). The church at Ephesus was known for its hard work, and it is remembered for that (Rev. 2:2–3). Corinth is remembered for its division and moral laxity, the church at Laodicea for its apostasy, the congregation at Thessalonica for its doctrinal disputes centered on Christ's second coming.
In Philippi we have a picture of a church that is remembered because it remembered. It remembered the apostle Paul in his moments of great financial necessity. We remember it for its example of true Christian compassion and stewardship.
Genuine Interest
When Paul first came to the city of Philippi in Macedonia there were no Christians, for he was the first missionary. It was only as Paul began to preach and teach the Old Testament that a small group of believers gathered around him. These Christians were attached to Paul, because through him God had called them to faith in Jesus Christ and through him God had brought great blessing. These Christians loved Paul and wished to help him, and they continued their interest in him even after he had moved on to other cities. For a short time after he had left Philippi, Paul worked in Thessalonica. Since this was near Philippi the Philippians sent messengers to find out how Paul was doing. Word came back that Paul was in financial need. They took a collection and sent it to him. Later when they had heard that the need continued they did the same thing again. Paul refers to this in his letter to them saying, "For even when I was in Thessalonica, you sent me aid again and again when I was in need" (Phil. 4:16).
After a short period of time a riot drove Paul out of Thessalonica, and he went south to Berea and then moved on to Athens. While in Athens his companions from the north went back to Macedonia and sent on Silas and Timothy whom he had left there; these caught up to him in Corinth. For a time during these journeys the church at Philippi must have lost track of Paul, and they must have asked themselves questions about him. "Where is he now? The last we heard of him he was in the little town of Berea, but they say that he left there and went south. I wonder where he stopped? Perhaps he has left Greece entirely?" The questions continued until a traveler, who had seen Paul recently, finally came to Philippi. Now the questions changed. "Is Paul all right? Does he have a place to stay? Is he without money? Is he forced to take care of himself by tentmaking? Or are Christians taking care of him?" The questions would have come forth like a torrent.
When the answer came that Paul was again in need, the Philippians once more sent money. This happened at least once after Paul had left Thessalonica, for the letter says that the Philippians had cared for him in the beginning of the gospel after he had left Macedonia. Second Corinthians says that when he was in Corinth "the brothers who came from Macedonia supplied what I needed" (2 Cor. 11:9). These were presumably Philippian Christians. When the answer came back from the visitor that Paul was all right and well cared for, the Philippians rejoiced and used their money elsewhere.
Eventually the believers at Philippi lost touch with Paul entirely, for Paul was constantly on the move and communications were uncertain and slow. He left Greece and returned to Judea. There was a third missionary journey; again they had contact; again Paul moved on. At last Paul was imprisoned in Caesarea and after two years was dispatched in chains to Rome.
Many years had now passed since Paul had first visited Philippi and had founded the church there, but the love of the Philippians for Paul was still strong and the church had not forgotten his service among them. At length news of Paul came to them from Rome, and they learned that he was now in prison there and lacked everything. Many had left him. He could not work. He was not even warm enough during the long months of the damp Roman winter. Immediately the Philippians began to collect funds, and when they had them they sent the gift to Rome as quickly as possible in the care of Epaphroditus. Paul was overjoyed. As a result he wrote the closing verses of Philippians to express it. "I rejoice greatly in the Lord that at last you have renewed your concern for me. Indeed, you have been concerned, but you had no opportunity to show it. I am not saying this because I am in need, for I have learned to be content whatever the circumstances. I know what it is to be in need, and I know what it is to have plenty. I have learned the secret of being content in any and every situation, whether well fed or hungry, whether living in plenty or in want. I can do everything through him who gives me strength. Yet it was good of you to share in my troubles.… Not that I am looking for a gift, but I am looking for what may be credited to your account. I have received full payment and even more; I am amply supplied, now that I have received from Epaphroditus the gifts you sent. They are a fragrant offering, an acceptable sacrifice, pleasing to God" (Phil. 4:10–14, 17–18). In Paul's mind the gift from the Philippians was a shrub that had flowered, as it were, in spring after a long winter. It was a sacrifice to God for which Paul was thankful.
Fruit that Abounds
Paul's pleasure at the gift that the Philippian Christians had sent was not merely for his own sake, however. He was pleased for their sake also. For he knew, as we should all know, that a gift actually benefits the giver more than it benefits the one who receives it.
This is true on the human level, but it is even more true spiritually, for Paul writes that in God's sight the gift would appear as fruit credited to their personal account (v. 17). We often think of the fruit of Christianity only in terms of character, primarily as the fruit of the Spirit listed in Galatians 5:22–23. But other things are said to be fruit of the Christian life also. Converts are the fruit of our labors for the Lord Jesus Christ. Money given to help another Christian is called fruit. According to this text we may say that our gifts to others are encouraged by God, noticed by God, and much desired by him.
Much proper Christian giving is hindered by the conviction in some believers' minds that security is really dependent on having things or money. Some think that security consists in finding a husband or wife. Others think that their security consists in amassing a fortune. If they are able to save a thousand dollars, they feel that they would be a bit more secure if they had two. If they earn two thousand, they think of ten. Ten leads to twenty. Pretty soon they have their eyes on even more. Against this misplaced desire God says that if the believer is not trusting him he is no more secure with a million dollars than just one. If he trusts God, he is secure without any.
From my own observation of the various patterns of Christian giving today I believe one of the best things that could happen to many believers would be for them to be led to give away, all at one time, a substantial part of their savings. Why? Because there is something about giving away a sizable percentage of one's money that is spiritually invigorating. The Christian is thrown back on the Lord and learns that he is more than able to care for the one who trusts him. I have seen this happen in many instances. I have never known a true Christian to be sorry for even the most sacrificial giving afterward.
Perhaps someone is going to ask at this point, "Well, what about tithing? Doesn't the Bible say that we are to tithe? Doesn't that mean that we are only required to give a tenth of all earned income?" The answer to that question is that the Bible does speak about tithing, but that was for Jews under the Old Testament laws. "Well then," you say, "doesn't that mean that we are released entirely from the requirement to give?" Yes, in a sense we are, for we are not under law; we are under grace. But if you understand what it means to be under grace rather than under law, then you also understand that under grace the standard does not go down—it goes up. For instance, the Sermon on the Mount is not law as the Ten Commandments are law; it is an ethic to be lived out by God's grace in the lives of regenerate people. But because it is by grace, the standard goes up. Instead of being told only that we shall not murder, we are also told that we shall not hate. Not only should we not commit adultery, we are not even to lust after another person mentally. It is the same with stewardship. Instead of owing God 10 percent of our income, we are now told that all that we have belongs to him.
We are not under law as regards percentages, but we do have a high level of responsibility for the support of other Christians and Christian work. We are responsible for determining God's will where our own individual stewardship is concerned.
If God tells you that you are to give 10 percent of your income to Christian work in any one year, then you are to give 10 percent. If you have abnormally high and valid commitments one year, perhaps in regard to the medical care of your family or the education of your children, you can give less. If God tells you to give 20 percent, give 20 percent. If he says 50, give 50 percent. Just be sure that you know that it all belongs to him and that he has the final word on how you spend it.
The Only Ones
Finally, let me call your attention to another phrase in this section that also deserves to be noticed. It should encourage us in a special form of stewardship. It occurs in verse 15: "Moreover, as you Philippians know, in the early days of your acquaintance with the gospel, when I set out from Macedonia, not one church shared with me in the matter of giving and receiving, except you only." You only! Not only were the Philippians distinguished by the fact that they had remembered Paul in his need—that was significant—they had also been the only ones to remember him.
There is always a special aura about someone who does something for you when only that one has remembered to do it. In his vastly successful book How to Win Friends and Influence People Dale Carnegie has a section in which he tells of some of the devices he developed for pleasing business acquaintances. One of them was this. Whenever he would meet a man for the first time, Carnegie would ask at some point in the conversation under which sign of the zodiac the man had been born. In ninety-nine cases out of one hundred the person would not know, so Carnegie was able to ask the day of his birth so as to be able to tell him. This was only a gimmick, however. For as soon as Carnegie had found out the date of his birth, he would tuck it away in his memory and then would write it down at the first opportunity he found to do so. Later, the date was entered on a calendar along with other significant birthdays. Each year on that date the acquaintance would receive a birthday card from Carnegie. The famous author then says that he imagined, and generally learned later, that in most cases he was the only one outside of the immediate family who had remembered the man's birthday. The resulting goodwill was staggering.
I believe that if Dale Carnegie could do that for secular ends to win friends and influence people, Christians ought to be able to do the same type of thing for spiritual ends and to do so sacrificially to win them for Christ.
Do you want real joy in this world, real fruit in your Christian ministry? If so, let me suggest this. Instead of wondering to yourself, as you often do, why people do not treat you better or remember things that are important to you, seek for ways in which you can help them, particularly in those areas in which only you know the problem. God will show you how. The other person will think that no one understands his need or no one is aware of his problem. Then your gift or your word of encouragement will come. He will be overjoyed; and if he is a Christian, he will see it as another way in which God uses people as channels of his faithful provision and blessing.
I cannot tell you who the person is whom you could help. I cannot tell you what the circumstances will be or even what you can do. That will vary. You will have to find it out for yourself. It might be a person in your own family with a unique need, perhaps one of your children who desperately needs someone to do something special for him or her, or your wife or husband who needs understanding. It might be someone at work who thinks that no one cares about him. It might be someone at church. It might be a stranger. It might be a financial need. It might be a word of encouragement. Whatever it is, God will help you to find it if you ask him. And he will give you great joy in being the one who, like the Philippians, did not forget, but remembered.[2]
---
Cracking the Contentment Code
Philippians 4:10–13
I know how to be brought low, and I know how to abound. In any and every circumstance, I have learned the secret of facing plenty and hunger, abundance and need. I can do all things through him who strengthens me. (Phil. 4:12–13)
Financially tough times, such as economic recession, put people under intense pressures. Those pressures can reveal hairline cracks in our characters that would have been invisible in more comfortable conditions. As the visible props on which we often lean crumble, people are forced to face the truth that sources from which we seek satisfaction and security are surprisingly fragile.
Tight budgets in crunch times pose two temptations for Christians and non-Christians alike: anxiety and discontent. Anxiety frets over the question "Will I have enough to survive, to meet my family's basic needs?" To such fear Anxiety typically answers, "Maybe not," or even "Probably not." So Anxiety tends to close its fist around what little it has, afraid that hands that give too freely will end up empty. Discontent asks, "Do I have enough to make me happy, to satisfy my desires?" To that question Discontent always answers, "No, not enough, not yet." Therefore, Discontent, like Anxiety, keeps a tight grip on its treasures, and Discontent resents the fact that it doesn't have even more.
The followers of Jesus in first-century Philippi were "on the edge" financially. A half-dozen years before Paul wrote to the Philippians, he pointed out to the wealthier church in Corinth the "extreme poverty" and the "severe test of affliction" endured by believers in Philippi and other Macedonian cities (2 Cor. 8:2). For many people, terms such as "extreme poverty" and "severe test of affliction" hit close to home. Perhaps for you any downturn in the economy is not just a matter of trends and statistics reported in newspaper stories or analyzed in online blogs. Perhaps you have been downsized or you had to let employees go. Perhaps you have lost your home or been threatened with foreclosure. Perhaps your retirement reserves have been decimated. You are feeling the pressures of economic scarcity, just as the Philippians experienced twenty centuries ago.
What Paul found so refreshing about the Philippian Christians was that their ongoing economic crisis did not keep them from giving generously to help needy believers far away, in Judea. In fact, they had begged for the privilege of giving (2 Cor. 8:1–5)! Now, six or seven years later, they still refused to let financial pressures compress their hearts into a hard, heavy nucleus of self-protective miserliness. They had dispatched their trusted messenger Epaphroditus to deliver an ample donation toward Paul's daily living expenses in Roman custody (Acts 28:30). Among Paul's purposes for writing this warm letter of friendship was to express his gratitude for the Philippians' gift and for the affection that had prompted it. This is the final theme to which he turns before closing the epistle (Phil. 4:10–20).
Paul's "thank-you note," coming as it does in the final lines of the letter, has struck many students of Scripture as rather odd. Some have labeled this section an expression of "thankless thanks," since the apostle seems to express gratitude out of one side of his mouth while emphasizing, out of the other, that he was quite content without the gift. Some find the placement, so late in the letter, a signal that Paul's expression of gratitude is more obligatory than sincere. Some speculate that Paul's tepid "thanks, but no thanks" response reflects discomfort with a donation that could undermine his authority by elevating the Philippian congregation as his patrons and demoting Paul to the status of their dependent. Some even suggest that these appreciative sentences originally belonged to a completely different document (though there is no evidence that any copy of Philippians ever existed without this passage at this place, or that this passage ever circulated apart from the epistle as a whole).
In our next study, we will explore Paul's rationale for placing his thanks for the Philippians' gift at the end of his letter. For our current consideration of Philippians 4:10–13, we need to grasp why Paul starts by expressing joy for the Philippians' renewed thoughtfulness—demonstrated in their gift—and then seems, so abruptly, to turn ungrateful and ungracious by insisting that he was quite content without it. Happily, the explanation is not far to seek. It is not to be found in alleged interpersonal tensions between Paul and the Philippians, nor in a supposed preoccupation by Paul with keeping his superior status in the church's social "pecking order."
Quite simply, Paul shifts from expressing his joy over the Philippians' donation (Phil. 4:10) to affirming his contentment (4:11–13) for two reasons. First, he removes any regret that his friends may feel over the significant time delay between their initial resolve to help their beloved apostle ("you were … concerned") and the actual arrival of their donation ("you had no opportunity"). They do not need to wonder whether Paul has been moping in self-pity, doubting their love and resenting their delay. Second, and more importantly, Paul—ever the pastor and spiritual parent—is again using his own situation and his response to it, as he has done throughout the epistle, as a "case study" in the Christ-centered response to adversity. This time the adversity in view is financial exigency and all that accompanies it—being "in need," being "brought low," and experiencing "hunger." Paul will show his beloved spiritual children how to weather the careening roller-coaster trajectory of life—lack and lowliness to abundance and plenty and back again—with the inner equilibrium that comes from the God "who strengthens me."
Clues in the context of our passage suggest that the Philippian Christians need Paul's example on the issue of their mind-set toward money. Though they have displayed openhanded generosity from the depths of their poverty, both for believers in Judea and for Paul, they also feel the pressure of their tight finances. If they were not tempted to worry, Paul would not have wasted papyrus to prescribe prayer as an antidote to their anxiety: "Do not be anxious about anything, but in everything by prayer and supplication with thanksgiving let your requests be made known to God. And the peace of God, which surpasses all understanding, will guard your hearts and your minds in Christ Jesus" (Phil. 4:6–7). Moreover, Paul's insertion of "thanksgiving" alongside their requests implies that they need an antidote not only to Anxiety but also to Discontent concerning God's provision. We might assume that such generous givers could not be troubled by a lack of contentment. But Paul does not waste words telling people to avoid traps that would never tempt them. If his Philippian friends need Paul's call to thanksgiving, it must be because they are tempted to thanklessness, a telltale symptom of discontent. This finds confirmation in Paul's earlier instruction, "Do all things without grumbling or questioning" (2:14). The pressures they face are creating fissures in their relationships with each other ("grumbling") and in their relationship with God ("questioning" his providence).
Before we investigate Paul's "secret" of staying content in any and every circumstance, we should recognize that it is not only those facing tight budgets who are tempted to be discontented with what they have. Even when we live well above the poverty line, surrounded by far more than the bare necessities, it is easy to feel that we don't have enough stuff, or good enough stuff, or new enough stuff, or fast enough stuff. Affluent people, who never wonder where the next meal is coming from, can be very discontented with what they have. Advertisers know how to tease our hungry hearts, how to make us feel that our lives will be unfulfilled unless we have the latest thing in information technology, a more luxurious car, a more spacious, comfortable home, or whatever else may be on our wish lists. We are told that a society's economic health actually depends on cultivating material discontent, and economists express alarm when consumers prefer saving over spending. If everybody felt as Paul feels in his chains, content with so little material wealth, the growth of global economies might stall. So it is not only those on the edge of destitution who need to learn the secret "contentment code" that Paul cracks open here. This secret is for everyone who wrestles with the question "How much is enough?" It can even cure the toughest case of discontent: the avarice of the affluent!
Joy in Your Concern, Not Your Cash
Paul is deeply and genuinely grateful for the funds that Epaphroditus brought from Philippi. He rejoices not only because the gift reveals the Philippians' affection for Paul but also because it displays their devotion to Christ. Before their gift arrived, times had been tough for Paul in terms of cash flow, as he acknowledges frankly in mentioning "my trouble" in verse 14. It had been quite some time since the Philippian church—one of the few that consistently partnered with Paul financially—had managed to send a donation for his rent and other expenses. So Paul is eager to convey his gratitude, but this thank-you note has to be worded delicately, to avoid leaving wrong impressions in the Philippians' minds.
Paul opens the subject of their financial contribution by stressing that he "rejoiced … greatly" when their gift arrived (Phil. 4:10). This is the last appearance of the much-used verb rejoice in this epistle, and Paul boosts its intensity with the adverb greatly, as well as the crucial phrase "in the Lord." He has just called his friends to "rejoice in the Lord," adding that—because their joy is grounded in the Lord and not their circumstances—they must rejoice "always" (4:4; see 3:1). Now he again sets the pace, affirming that he, too, has "rejoiced in the Lord." Because the Lord—not their gift—is the deep source of his joy, he has rejoiced "greatly." Moreover, he has rejoiced and can rejoice in any and all circumstances, not only in his current plenty but also in his prior need.
Lest his friends mistake his meaning in describing his great joy that their gift arrived "at length," Paul immediately adds two clarifying footnotes. First, Paul hastens to say that he knows that his friends had him in mind all along, even though he has described their donation as a sign that their concern for Paul has "revived," like buds and blossoms reappearing on bare trees after a long winter of dormancy.5 Paul has known all along that their care for him had not really gone into hibernation. To his friends at Philippi, he was never "out of sight, out of mind." It was just that they had not found a way to get the funds to Paul sooner. So he doesn't want them to imagine him grumbling in his imprisonment, "Why have the Philippians, so generous in the past, now forgotten me?"
Paul's second footnote is in verse 11, where he stresses that, though he did in fact rejoice over their gift, it was not because he was in need. He amplifies this point in verse 17, where he insists that what he is seeking is not their gift (for his personal benefit) but rather the fruit that will accrue and be "credited" to their account by God himself. Their gift will, in the end, do them more good than it is doing Paul. This is what strikes some readers as a grudging, ungrateful way to say "thank you": "Thanks so much for your gift, but I didn't really need it."
Perhaps this reminds you of the way one of your relatives—a great-aunt or a grandmother, perhaps—reacts when you have found the perfect gift for her. First she says, "Oh, you really shouldn't have!" Then she may go on about why it was too expensive, or why she will never use it. You begin to wonder why you bothered in the first place. So some New Testament scholars, trying to find friction in Paul's mellow relationship with the Philippians, think they hear an edge to Paul's voice, a subtle signal of rebuke in Paul's words, "Not that I am speaking of being in need." That suspicious way of reading these words would mean that when Paul says, "I rejoiced … greatly," he is faking it or being ironic. Yet hypocrisy doesn't fit Paul's character, nor the genuine contentment that he goes on to express. And sarcasm doesn't fit Paul's friendship with the folks in Philippi. Rather, Paul wants his Philippian friends to know that his joy over their gift is not simply because their friendship has proved profitable to him. The gift itself he can take or leave; what he treasures is the affection behind the gift.
Paul also emphasizes that he was content before their gift arrived in order to emphasize his deep satisfaction in God's providence, whether it entails abundance or abasement. Paul does not want his friends to imagine that in his "trouble" he has been sulking over their neglect, or resenting God's plan and provision. To echo his exhortation in Philippians 2:14, Paul has not been "grumbling" about his fellow believers, nor has he been "questioning" God's care and good purposes.
Loving parent that he is, Paul sees the Philippians' generosity as presenting to him another "teaching moment." He can give them a gift of wisdom that will fortify them for the poverty and hardship they are facing. Paul takes the occasion of the Philippians' gift to share with them the secret that has kept him content and joyful both in poverty and in affluence. So again he opens a window in his heart, inviting us to look inside and watch how he applies the gospel to the ups and downs of fluctuating finances.
To learn the lesson that Paul has to teach us, we need to understand first what true contentment means, and then the process by which such contentment is acquired.
Content with Where I Am and What I Have, but Not with Who I Am—Yet!
So far our discussion has focused on money, whether lots or little, because the occasion of Paul's words is his gratitude for a financial gift. But in verse 12 Paul starts his list of the extremes of experience in which he has found contentment with a contrast of opposites that are not limited to cash: "I know how to be brought low, and I know how to abound." Being "brought low" is not merely living below the poverty line. It has more to do with status than with income. This was clear when Paul used the same word in chapter 2 to describe Christ's self-humbling when, instead of exploiting his equality with the Father, he became a human being, took a servant's status, "made himself low," and submitted to death on a cross (Phil. 2:6–8).
Paul has a purpose in beginning where he does as he paints the spectrum of experience in which he finds contentment. Because Christ has so humbled himself to redeem Paul's life and transform Paul's heart, the apostle is content not only to forgo funds but also to forfeit honor and to occupy a low place where others fail to notice or respect him. He practices the counsel that he has given his Philippian friends, humbly counting others more significant than himself.
Sometimes being content in a situation in which nobody appreciates you is as hard as being content on a tight budget. Don't you know people who have more than they need materially, but still work and overwork because what drives them is not the size of their salary but the acclaim of the industry? Or people who want an office in the church rather than quiet opportunities to serve, so that others will recognize their abilities? Is that driven honor-seeker you? Or can you sincerely sing this very countercultural hymn of Christian humility:
I would not have the restless will
That hurries to and fro,
Seeking for some great thing to do,
Or secret thing to know;
I would be treated as a child,
And guided where I go.
I ask thee for the daily strength,
To none that ask denied,
A mind to blend with outward life,
While keeping at thy side,
Content to fill a little space,
If thou be glorified.
If you find in yourself a "restless will that hurries to and fro, seeking for some great thing to do or secret thing to know," Paul would show you a higher path, a path of lowliness in which you will be "content to fill a little space," as long as God is glorified—that "now as always Christ will be honored in my body, whether by life or by death" (Phil. 1:20).
With the next pairs in verse 12—"facing plenty and hunger, abundance and need"—Paul turns the spotlight directly on material resources. He is content with what he has. He reduces things to the bare essentials, to the question whether there is food on the table. The esv's "facing plenty" represents a Greek verb that conveys eating one's fill, consuming food to the point of complete satisfaction.9 In effect, Paul says, "I can be stuffed or starved; either way, I am content." When I hear Paul say that he can respond to near-starvation without resenting God's providence or envying the well fed, I am embarrassed by how little it takes to unsettle my contentment: a car that needs repairs, a computer that boots up slowly, a tough steak. How about you?
We might be surprised to hear Paul say that his contentment extends to times when he has plenty to eat and is on top of the world. "Well, of course," we think, "why should he not be content when he has all he needs?" But a moment's reflection brings to mind people who have far more than they need but who still cannot bring themselves to say, "Enough!" Money and what it can buy can be as addictive as narcotics: the more you have, the more you feel you need in order to get the same "high." For many of us, the challenge is not to be content when we have nothing. After all, we have never had nothing. The challenge is to be content when we have more than we need but less than we want. John Calvin wisely observed:
He who knows how to use abundance soberly and temperately with thanksgiving, prepared to part with everything whenever it may please the Lord, giving also a share to his brother according to his ability, and is also not puffed up, that man has learned to excel and to abound. This is an excellent and rare virtue, and much greater than the endurance of poverty.
The secret of Christian contentment not only enables us to receive small gifts from our Father's hand with gratitude. It also empowers us to receive great wealth from our Father's hand without having our hearts stolen away from the Giver by his gifts. Especially in times of material abundance, you must coach yourself and cultivate in yourself the wise perspective on reality that God's Word provides. When tempted to rest your sense of security in your investments, hear Jesus say to you, "One's life does not consist in the abundance of his possessions" (Luke 12:15). Heed God's wise counsel: "Do not toil to acquire wealth.… When your eyes light on it, it is gone, for suddenly it sprouts wings, flying like an eagle toward heaven" (Prov. 23:4–5). You must "keep your life free from love of money, and be content with what you have," because God has promised what funds can never offer: " 'I will never leave you nor forsake you.' So we can confidently say, 'The Lord is my helper; I will not fear; what can man do to me?' " (Heb. 13:5–6). This ever-living, never-leaving Lord is "Jesus Christ … the same yesterday and today and forever" (13:7). The secret of contentment that Paul has learned and wants to teach is to be "at home" with our place, whether low or high, and "at home" with our goods, whether few or many.
To get a complete and balanced understanding of what Paul means by contentment, we must recall another perspective that Paul presented earlier in the epistle. Without that perspective, we will confuse Christian contentment with a mellow, laid-back, "whatever" approach to life. As we have seen, Paul is anything but complacent or unmotivated! Paul can take or leave honor or dishonor, full meals or famines. His joy and contentment are not dependent on the living conditions that his loving Father has ordained for him. But Paul cannot, will not, be complacent in his pursuit of the great prize on which his heart is set. He is not content—yet—with who he is. He has not yet reached the goal and received the full prize for which he runs with all his might: "that I may know [Christ] and the power of his resurrection, and may share his sufferings, becoming like him in his death, that by any means possible I may attain the resurrection from the dead" (Phil. 3:10–11). Paul knows his Savior and rests in Jesus' righteousness, but these tastes of redeeming grace have only whetted Paul's appetite for the full feast awaiting him at the Lord's return. Paul presses on for "the prize of the upward call of God in Christ Jesus" and invites all who would be mature to join his lifelong quest (3:12–15).
God's Word infects us with a holy discontentment. There are things in life worth longing for and striving for with all our might. Food and clothes and technology are not those things. The treasure that is not yet fully in our grasp, that should still stir our discontentment, is the fullness of God's grace in Jesus. If you trust him, your sins are forgiven and his righteous record is yours. His Spirit has begun a good work in you (Phil. 1:6), renewing you from the inside out. But the best is yet to come! Be content with where you are and what you have, but discontent with who you are—so far!
Not Self-Sufficiency, but Christ-Sufficiency
Another dimension of what Paul means by contentment is expressed in verse 13: "I can do all things through him who strengthens me." I remember that when I was a youngster, I saw this verse on wall plaques and daydreamed of great exploits, if only I could build up a muscular faith: "Wow! Jesus will make me Superman, faster than a speeding bullet, more powerful than a locomotive, able to leap tall buildings in a single bound!" Now that I have studied this declaration in its context, I realize that it is not God's blank check, signed and waiting for me to fill in the amount of strength I want, to achieve impossible deeds. The "all things" that Paul can handle in verse 13 are the range of situations that he has just described in verse 12. Where we read "in any and every circumstance," the Greek says "in each thing and in all things"—in the whole range of situations, from being stuffed to being starved, from riding high to crawling low.
Although Paul's "I can do all things" declaration is not God's carte blanche for my youthful delusions of grandeur, the apostle's words do cast a very distinctive light on the meaning of contentment for those who trust Christ. The fact is that Christ's apostle has borrowed the word content from the ancient Stoic philosophers, and then twisted it inside out. The word's origin and its contemporary usage gave it the meaning "self-sufficient." It conveyed the ideal of self-contained independence that Stoicism advocated. The Stoics claimed that the wise person realizes that every experience, whether pleasurable or painful, is part of an interconnected matrix permeated by Reason. Thus it is pointless to resent illness or injustice. The key to contentment, said the Stoics, was to become emotionally self-sufficient by insulating oneself from the variables of pain and pleasure. One scholar sums up the Stoic conception of contentment this way: "By the exercise of reason over emotions, the Stoic learns to be content. For the Stoic, emotional detachment is essential in order to be content." Whereas the Stoics believed that intellectual aloofness could provide protection from emotional distress, Paul refuses to insulate his heart from sorrow by keeping people and their hurts at arm's length. He rejoices with people and weeps over them.
Moreover, here he twists the Stoics' favorite term, self-sufficiency, inside out. His capacity to handle life's ebbs and flows is not self-generated. It comes from outside Paul, from "him who strengthens me." Paul's contentment is found not in self-sufficiency, but in Christ's sufficiency. Paul has learned the secret of real contentment, which was portrayed beautifully by the prophet Jeremiah:
Blessed is the man who trusts in the Lord,
whose trust is the Lord.
He is like a tree planted by water,
that sends out its roots by the stream,
and does not fear when heat comes,
for its leaves remain green,
and is not anxious in the year of drought,
for it does not cease to bear fruit. (Jer. 17:7–8)
How can a tree keep its green leaves in the summer heat and bear fruit in years without rainfall? Not because the tree itself contains an internal spring of water, but because it is planted by a flowing stream. If you are trusting in Jesus Christ, you are this stream-irrigated tree, just as Paul was.
The older Greek manuscripts and more recent English versions based on them, such as the esv, do not name "Christ" as the One "who gives me strength." Later manuscripts and the translations based on them, such as the kjv, include the name.15 The authenticity of the shorter reading, "him who strengthens me," is supported by the age of the copies that contain it, which makes them closer to the original manuscript. Also, it is more plausible to envision why copyists might insert the name Christ, making explicit what Paul left implicit, than it is to suppose that they would delete the name if they had found it in earlier manuscripts. In any case, the spiritual instinct of the copyists who inserted (or retained) the name Christ was exactly right: Christ himself is Paul's source of strength. Elsewhere the apostle speaks of "him who has given me strength, Christ Jesus our Lord" (1 Tim. 1:12; see Col. 1:28–29). Paul is far from self-sufficient, but the all-sufficient Christ is Paul's source of strength. Paul has just promised that "the Lord is at hand" and "the God of peace will be with you" (Phil. 4:5, 9). Because Paul knows the nearness of Christ even in his captivity, Paul can receive whatever God's providence brings his way, whether painful or pleasant, with a deep joy "in the Lord." How can we learn the secret and skill of Christian contentment that sustained Paul?
Contentment Is a Learned Skill and a Shared Secret
In verses 11 and 12 Paul uses four verbs to communicate how he has acquired the contentment that enables him to rejoice in the Lord in plenty or in want. He writes:
"I have learned …
I know …
I know …
I have learned the secret."
The double occurrence of "I know" shows the result of the learning process indicated in the first and fourth verbs—"I have learned" and "I have learned the secret." Paul can say, "I know how to be brought low" and again "I know how to abound" because he has gone through a learning process and been initiated into a secret that gives him a Christ-centered perspective on his fluctuating situation.
The fact that Paul has "learned" contentment shows that his calm response to life's ups and downs is a skill honed through practice. The author to the Hebrews uses the same term, writing that Christ himself, "although he was a son, learned obedience through what he suffered" (Heb. 5:8). The eternal Son of God entered the world ready to fulfill the Father's will (10:5–10), but his holy resolve was tested and proved through his obedient suffering. In this sense he "learned" in practice what obedience entailed, and what it cost. Christ-centered contentment is not preinstalled on our hearts, like a software program preloaded into a new computer. Nor is Christian contentment injected in a single dose, as though it were a vaccine that could make us immune to a complaining spirit. It takes practice. Contentment grows over time, as we face adverse situations—in finances, health, relationships, or other areas—and seek Christ's strength to release our grip on his gifts, while we strengthen our grasp on his grace.
Yet cultivating Christian contentment is not merely a matter of following an exercise regimen to reprogram our attitudes. Contentment is a secret that has been shared with Paul by Another. Our version's "I have learned the secret" represents a single Greek word, which could also be translated "I have been initiated." This is the only place in the whole New Testament that this word appears. In Paul's day it was associated with the bizarre initiation rituals of the pagan "mystery religions." (In fact, the verb is related to the Greek noun mystērion, from which we get mystery in English.)
Mystery religions, such as those devoted to Dionysus and Mithra, hid their best secrets behind closed doors, keeping them away from the curious eyes of uncommitted observers. Only the "insiders," who had undergone initiation, got in on the deepest mysteries. On the other hand, Paul and the other heralds of Christ were broadcasting God's good news, God's mystery, right out in the open, for anyone to hear:
By the open statement of the truth we would commend ourselves to everyone's conscience in the sight of God. And even if our gospel is veiled, it is veiled only to those who are perishing. In their case the god of this world has blinded the minds of the unbelievers, to keep them from seeing the light of the gospel of the glory of Christ, who is the image of God. For what we proclaim is not ourselves, but Jesus Christ as Lord, with ourselves as your servants for Jesus' sake. For God, who said, "Let light shine out of darkness," has shone in our hearts to give the light of the knowledge of the glory of God in the face of Jesus Christ. (2 Cor. 4:2–6)
The mystery of the gospel is an "open secret" concerning public events: Jesus, the Son of God, became man, lived a perfectly obedient life, then died a criminal's death under God's wrath (not for his own sins but for others' offenses), rose from the dead, ascended to heaven, rules now, and will return in glory. There it is, God's most wonderful secret, right out there on the open market … no passwords, no secret handshakes, no going down into a pit to be showered with the warm blood of a freshly slaughtered bull as in Mithraism.
Nevertheless, here Paul picks up a piece of mystery-religion jargon, cleans it up, and uses it to get our attention. He implies that there is a secret to contentment, a code to be cracked that will enable you to weather the best of times and the worst of times. Contentment in Christ is a kind of "insider knowledge." Yet the great difference between Jesus and Mithra is that in Christianity the boundary between "outsiders" and "insiders" can be crossed simply by believing the very public gospel that Paul preached—by entrusting your life to the crucified and risen God-man, Jesus the Messiah. Christ himself is the secret to contentment—not a mystical Christ hidden behind secret rituals or visionary experiences, but the historical Jesus who lived and died and rose again, who is now proclaimed openly among the nations. The better we get to know Christ, the more we discover that he is the One who satisfies our hearts.
Food and shelter are necessities for existence on this earth. Extra food and comfortable shelter, as well as cars and computers and the other extras that many of us enjoy—these are not necessary, but they are nice. Yet none of this can quench your heart's thirst because, at the core of who you are, you were made for friendship with the living God. When you're tempted to think that there is something else, anything else, that you "just have to have" to make life worth living, that is the time to remind yourself of the secret. By faith in the gospel of God's Son, you have been initiated as an "insider." You are in on the secret. You have Christ at the center of your life, and in the end he is all that you need!
Contentment Entails Exerting Strength
Does all of this sound like too facile and cheap a solution to the real-world shortages and crises that keep you awake at night? After the horror of World War II, Americans—whose cities and countryside, unlike those of Europe and Asia, bore few scars from the devastation—were in the mood for an optimistic outlook and economic resurgence. The composer-lyricist team of Richard Rodgers and Oscar Hammerstein II caught the wave in a series of Broadway musicals that prescribed "happy talk" to make our dreams come true (South Pacific, 1949), "whistling a happy tune" in the face of our fears (The King and I, 1951), mustering "confidence in confidence alone" to confront daunting challenges, and remembering our "favorite things" when the dog bites and the bee stings (The Sound of Music, 1959). At the same time, Norman Vincent Peale's The Power of Positive Thinking appeared (1952). The cheeriness of Hammerstein's hymns to hope-for-hope's-sake and Peale's mind-over-matter advice may sound naive today, but the self-counsel that they offered to that postwar generation still resonates with many people. Why else would hurting and desperate people around the world grasp at preachers' promises that unwavering faith and generous donations will bring prosperity, healing, and overall well-being, not in some distant future but here and now?
Is Paul simply offering an ancient form of "happy talk"? No, Paul is a sober realist, and his closing word on contentment, before he resumes his thanksgiving for the Philippians' gift, shows that the contentment he commends requires that we flex the mental and spiritual muscle that Christ has given us by his indwelling Spirit: "I can do all things through him who strengthens me" (Phil. 4:13).
Christ is the source of Paul's strength and ours, but we must not ignore Paul's "I can do"—or, as Paul's Greek says, "I have power" or "prevail over" every circumstance. Paul uses a term that has "strength" built into it in order to remind us that Christian contentment is not a sedative. Christian contentment is something that we fight for. We must exert effort to wage war against the temptation to complain, to envy others, to fixate on what is uncomfortable and inconvenient and downright wrong in our circumstances. We strive to focus instead on the faithfulness and mercy and strength of our God. Paul flexes his mental muscle to remind himself often that in Christ he already has the supreme treasure, and that he is racing toward a goal that will mean an even greater experience of his Savior's grace and glory. And again, Paul is not striving in his own strength or racing in his own energy. The key to his patience in the present and his hope for the future is the presence of the Christ who gives him strength.
Conclusion
How can you follow Paul's lead, winning the war over both Anxiety and Discontent, even in financially tight times? Focus your mind on the truth that, if you are trusting in Jesus, the living God is with you and at work in you, through the unseen but very real and very powerful presence of the Holy Spirit (Phil. 1:19).
The more you direct your heart toward Christ's presence and power, the less you will waste your mental and emotional energy on the stuff that doesn't last. You will be able to keep a light grip on what you do have, and you won't fret over what you don't have. God will keep the amazing promise that Paul issued just before our text, "The God of peace will be with you" (Phil. 4:9). And you will want to invest the resources that he does entrust to you in ways that enable others to see in you glimpses of the generosity of Jesus himself and the contentment that he imparts to those who trust him wherever he leads, whether through plenty or through poverty.[3]
---
12 "I know what it is to be in need" translates tapeinousthai (GK 5427) as in the passive voice ("to be humbled"), which assumes that Paul's lowly state is thrust on him. "To live in plenty" (or in prosperity) is relative and may simply refer to the times when he was not experiencing the hardships he cataloged in 2 Corinthians 11:24–27. He had learned the secret of trusting God to provide his daily bread, even when on half rations or starving. How to live is the issue, and Paul continues to present himself as an example for the Philippians to follow (4:9).
13 Paul says that he is "able" ("strong," ischyō, GK 2710; NIV, "can do") to do all things through the one who continually empowers (tō endynamounti [GK 1904], present tense; NIV, "gives strength") him. The name "Christ," which is familiar to most from the KJV, is absent from the oldest and most reliable manuscripts, but Christ is clearly in mind (1 Ti 1:12). This statement may sound like a wild-eyed pipe dream and can be easily misinterpreted. Paul does not mean to imply that Christ is like some magical genie in a lamp who renders us able to do anything we want. Translating the preposition en as "through" may cause one to miss Paul's point that it is by being in Christ that one is empowered (cf. 1:1; 2:1; 3:9, 14; 4:7, 19, 21). In this case, "everything" refers to his ministry as an apostle, not to anything he might set out to do.[4]
---
12 The explanatory sentences in this verse are typically balanced, and somewhat rhythmical. He begins with the broader vocabulary of want and plenty, "I know both how to be humbled;39 I know also how to abound." Although these will lead to the more specific matters of material needs, there is every good reason to think that by starting with these verbs, he intended, "to be humbled and to abound in every which way," including in the specific ways he will pick up next, but not limited to these.41 After all, to be "humbled" is not the ordinary verb for "being in want"; moreover, it is a thoroughly non-Stoic word. Some Stoics may have reveled in "want"; none of them could tolerate "humiliation," which often headed their lists of attitudes to be avoided. Whether deliberately chosen over against them or not, and that is moot, for Paul this verb not only indicates "poverty," but embraces a way of life similar to that of his Lord (2:8; cf. Matt 11:28), a way of life that finds expression elsewhere in his various "hardship lists."
Thus, "in every and in all circumstances," and now in reverse order, Paul specifies: "I have learned the secret"44 of what it means "both to be well fed or go hungry, both to abound and to be in need." Although the verb "learn the secret" is primarily a technical term for initiation into the mysteries, Paul is obviously using it metaphorically. While others have been "initiated into the mysteries," he says, "I have been initiated into both having a full stomach and going hungry." This passage joins others to make clear that, although Paul often ate well, he also knew very little of the cultural equivalent of our "three square meals a day." But the addition "to abound and to suffer need" probably point—on the "down" side, as do his hardship lists—to other material deprivations or supply, such as clothing (being in "rags"), shelter (homelessness), and less material ones such as toil and lack of rest.46
What is striking, of course, is his insistence that he knows the secret of both plenty and want. His various "hardship lists" make it clear that he has experienced "plenty" of "want." But in contrast to some of the Cynics, he did not choose "want" as a way of life, so as to demonstrate himself autarkēs; rather he had learned to accept whatever came his way, knowing that his life was not conditioned by either, and that his relationship to Christ made one or the other essentially irrelevant in any case. Where we otherwise lack direct evidence from him are situations in which he "abounded" in "plenty"—at least on the material side of things, although in this letter he may very well be alluding to the generous patronage of the Philippians, both when he and his co-workers lived in Lydia's household and when they repeatedly supplied his material needs in Thessalonica and Corinth, and perhaps elsewhere.
13 With the well-known words of this verse, Paul brings closure to this brief digression (vv. 11–13), in which he explains that his joy in receiving their gift was not predicated on their meeting his need. How has he learned to live in either want or plenty? His response: "I can do everything through him who gives me strength." With that he transforms the very Stoic-sounding sentences that have preceded from appearing to promote any sense of sufficiency within himself to a sufficiency quite beyond himself, to Christ,49 the basis and source of everything for Paul. Thus he turns "self-sufficiency" into "contentment" because of his "Christ-sufficiency." In effect this sentence spells out at the practical level the slogan of his life, expressed in 1:21: "for me to live is Christ."
"Everything" in this case, of course, refers first of all to his living in "want or plenty." Paul finds Christ sufficient in times of bounty as well as in times of need. Although he appears to have had less of the former than the latter, here is his way of handling the warning to Israel given in Deuteronomy 8 that they not forget the Lord once they have experienced plenty. Thus, this passage is not an expression of Stoicism, not even a christianized version of the Stoic ideal; rather, it is but another of scores of such passages that indicate the absolute Christ-centeredness of Paul's whole life. He is a "man in Christ." As such he takes what Christ brings. If it means "plenty," he is a man in Christ, and that alone; if it means "want," he is still a man in Christ, and he accepts deprivation as part of his understanding of discipleship.
Therefore, although this passage belongs in part to the conventions of "friendship," as with all such cultural conventions, in Paul's hand they are transformed into gospel. Moreover, given the context, one should recognize this brief autobiographical moment also to serve in a paradigmatic way. He has just urged them to "practice" what he both taught and modeled (v. 9). In the midst of their own present difficulties, here is what they too should learn of life in Christ, that being "in him who enables" means to be "content" whatever their circumstances.
And all of this (vv. 11–13), one must remember, has been said in order to inform the Philippians that his joy is not simply over their gift—although he will finally express his deep gratitude for that as well. Thus, with the issue of "need" spoken to, he returns in v. 14 to the acknowledgment of their gift and their friendship.
This marvelous passage has also had its own unfortunate history of interpretation, in the hands both of its friends and of Paul's detractors. His detractors look on the text as unbearable ingratitude, that he should begin the thanksgiving for their gift by brushing it aside in an apparently peremptory fashion. Better not to give such people gifts who treat the gift so unfeelingly, so "stoically" as it were! But such detractors understand neither the nature of first-century friendship nor the apostle's own aim, which is to focus on their friendship and partnership in the gospel, which their gift represents and which is greater by far than the "mere gift" itself. Only in a culture like ours, where "things" tend to be more significant than people, would one remonstrate at what the apostle has done here.
On the other hand, Paul's friends have sometimes mangled the text by quoting it apart from its present context. The worst expression of this abuse occurs with v. 13, which is sometimes made to say that "I can do all things (especially extraordinary things) through Christ who strengthens me." Very often the application takes a form exactly the opposite of Paul's—with a bit of v. 19 thrown into the mix, "when in want I shall receive plenty" because of my relationship with Christ. Paul's point is that he has learned to live in either want or plenty through the enabling of Christ. Being in Christ, not being self-sufficient, has rendered both want and weal of little or no significance. Experience in the church should teach one what the Stoics themselves recognized, that either "want" or "wealth" can have deleterious affect on one's life, those in "want" because their "want" consumes them, those in "wealth" because their "wealth" does the same. The net result is a tragically small person. On the other hand, the Pauline perspective—life as cruciform, being "conformed to his death so as to attain the resurrection"—raises God's people above the dictates of either. Those in "want" learn patience and trust in suffering; those in "wealth" learn humility and dependence in prospering, not to mention the joy of giving without strings attached![5]
---
4:12 / Paul had had long experience of having less than sufficient at some times and more than sufficient at other times: it made little difference to him. I have learned the secret of being content, he says, borrowing a term from the vocabulary of the mystery religions ("I have become adept" is F. W. Beare's rendering), whether well fed or hungry, whether living in plenty or in want. What Paul would have regarded as plenty may be guessed at—anything above the minimum requirements of food and clothing, no doubt. For a man brought up in Paul's environment, his conversion meant an initiation into a new way of life. One could not be a citizen of Tarsus without possessing substantial means. But for the sake of Christ Paul had "lost all things" (3:8), including (we may be sure) his material heritage; he learned henceforth to live on what he could earn by his part-time "tentmaking" (cf. 1 Thess. 2:9; 2 Thess. 3:8; Acts 18:3; 20:34).
4:13 / He takes no credit to himself for having learned this lesson of contentment: it is thanks to his "enabler" that he can do everything through him who gives him strength. It was, indeed, when he was most conscious of personal weakness that he was most conscious of the power of Christ resting on him. "For Christ's sake, I delight," he says, "in weaknesses, in insults, in hardships, in persecutions, in difficulties. For when I am weak, then I am strong" (2 Cor. 12:9, 10).[6]
---
the secret of true contentment
Philippians 4:10–13
I rejoiced greatly in the Lord that now at length you have made your thoughtfulness for me to blossom again. That was a matter indeed about which you were always thoughtful, but you had no opportunity. Not that I speak as if I were in a state of want, for I have learned to be content in whatever situation I am. I know both how to live in the humblest circumstances, and how to have far more than enough. In everything and in all things I have learned the secret of being well fed and of being hungry, of having more than enough and of having less than enough. I can do all things through him who infuses strength into me.
As the letter draws to an end, Paul generously expresses his gratitude for the gift which the Philippians had sent to him. He knew that he had always been very much in their thoughts, but up until now there had been no opportunity to show their concern for him.
It was not that he was dissatisfied with his own state, for he had learned the gift of contentment. Paul uses one of the great words of Greek and Roman ethics (autarkēs), which means entirely self-sufficient. Autarkeia, self-sufficiency, was the highest aim of Stoic ethics; by it the Stoics meant a state of mind in which an individual was absolutely independent of all things and of all people. They proposed to reach that state by a certain pathway of the mind.
(1) They proposed to eliminate all desire. The Stoics rightly believed that contentment consisted not in possessing much but in wanting little. 'If you want to make a man happy,' they said, 'add not to his possessions, but take away from his desires.' Socrates was once asked who was the wealthiest man. He answered: 'He who is content with least, for autarkeia is nature's wealth.' The Stoics believed that the only way to contentment was to abolish all desire until a stage had been reached when nothing and no one was essential to life.
(2) They proposed to eliminate all emotion until people had reached a stage when they did not care what happened either to themselves or to anyone else. Epictetus says: 'Begin with a cup or a household utensil; if it breaks, say: "I don't care." Go on to a horse or pet dog; if anything happens to it, say: "I don't care." Go on to yourself, and if you are hurt or injured in any way, say: "I don't care." If you go on long enough, and if you try hard enough, you will come to a stage when you can watch your nearest and dearest suffer and die, and say: "I don't care." ' The Stoic aim was to abolish every feeling of the human heart.
(3) This was to be done by a deliberate act of will which saw in everything the will of God. The Stoics believed that literally nothing could happen which was not the will of God. However painful it might be, however disastrous it might seem, it was God's will. It was, therefore, useless to struggle against it; it was necessary to steel oneself into accepting everything.
In order to achieve contentment, the Stoics abolished all desires and eliminated all emotions. Love was rooted out of life, and caring was forbidden. As the scholar of ancient history and the New Testament, T. R. Glover, said, 'The Stoics made of the heart a desert, and called it a peace.'
We see at once the difference between the Stoics and Paul. The Stoics said: 'I will learn to be content by a deliberate act of my own will.' Paul said: 'I can do all things through Christ, who infuses his strength into me.' For the Stoics, contentment was a human achievement; for Paul, it was a divine gift. The Stoics were self-sufficient; but Paul was God-sufficient. Stoicism failed because it was inhuman; Christianity succeeded because it was rooted in the divine. Paul could face anything, because in every situation he had Christ; those who walk with Christ can cope with anything.[7]
---
12 . It is to be noted that this contentment or soul-sufficiency (see on 1 Tim. 6:6) is derived not from any resources which the soul has in itself. Paul is no vain boaster who exclaims, "I am the Captain of my soul." He is no Stoic who, trusting in his own resources, and supposedly unmoved by either joy or grief, endeavors with all his might to submit without complaining to unavoidable necessity. The apostle is no statue. He is a man of flesh and blood. He knows both joys and sorrows, yet is content. But his contentment has its cause in One other than himself. The real Source or Fountain of Paul's soul-sufficiency is mentioned in verse 13. And that Fountain never runs dry, no matter what may be the circumstances. With reference to the latter Paul continues, I know what it means to live in straitened circumstances, and I also know what it means to have plenty. In any and all circumstances I have learned the secret, both to be filled and to be hungry, both to have plenty and to be in want.
Paul has learned the secret (a verb used only here in the New Testament and related to mystery). He has been thoroughly initiated into it by the experiences of life applied to the heart by the Holy Spirit. To those who fear him God reveals this mystery (Ps. 25:14). Those who reject Christ cannot understand how it is possible for a Christian to remain calm in adversity, humble in prosperity.
The words in the present passage which require some elucidation are the following:
to live in straitened circumstances
Again and again Paul had been "brought low," same verb as used with reference to Christ in Phil. 2:8, the Christ who humbled himself. That the apostle indeed knew what it meant to be reduced to such straitened circumstances is clear from the following passages: Acts 14:19; 16:22–25; 17:13; 18:12; 20:3; Chapters 21–27; 2 Cor. 4:11; 6:4, 5; 11:27, 33. He knew what was meant by hunger, thirst, fasting, cold, nakedness, physical suffering, mental torture, persecution, etc.
to be hungry
Hunger and thirst are often mentioned together (Rom. 12:20; 1 Cor. 4:11; 2 Cor. 11:27; and cf. for spiritual yearning, Matt. 5:6). In glory there will be neither hunger nor thirst (Rev. 7:16), and this because of Christ's submission to these afflictions for his own children (Luke 4:2).
to be in want
The apostle had often fallen behind. He had suffered from lack of such comforts as many other people would have considered necessities. He had come short. Yet, none of these things had deprived him of his contentment.
Over against the expressions indicating poverty and affliction are those referring to riches and glory:
to have plenty
Before his conversion Paul has been a prominent Pharisee. The future looked bright and promising. Paul had had plenty, and this in more ways than one. Yet, he had lacked the greatest boon of all: Christ-centered peace of soul. But even after his conversion there had been moments of refreshment when even physically he had experienced what it meant, in a sense, to have plenty (Acts 16:15, 40; 16:33, 34; 20:11; 28:2; Phil. 4:15, 16, 18), and now no longer apart from but in connection with peace of soul. Now, to carry oneself properly in the midst of plenty is no easy matter (Prov. 30:8; Mark 10:23–25). As the adage has it, "In order to carry a full cup one must have a steady hand," Paul, however, by the grace of the Holy Spirit had been schooled to abundance as well as to want.
to be filled
This word, though used at first with respect to the feeding and fattening of animals (of which meaning there is an echo in the clause: "all the birds gorged themselves with their flesh," Rev. 19:21), and applied to men chiefly by the Comic poets, was gradually losing its depreciatory sense and is here simply used as a synonym for to have plenty.
13. Paul, then, is saying that in every particular circumstance as well as in all circumstances generally he has learned the secret of contentment. The cause that accounts for this soul-sufficiency, that is, the Person who taught and is constantly teaching him this secret, is indicated in the words, I can do all things in him who infuses strength into me. Surely, a wonderful testimony! Whatever needs to be done Paul can do, for he is in Christ (Phil. 3:9), being by the indwelling presence of Christ's Spirit and by Spirit-wrought faith in vital union and intimate fellowship with his Lord and Savior. Christ's grace is sufficient for him and his power rests on him (2 Cor. 12:9). This wonderful Helper is standing by him (2 Tim. 4:17) as the great Enabler (1 Tim. 1:12). The Lord is for Paul the Fountain of Wisdom, encouragement, and energy, actually infusing strength into him for every need. It is for that reason that the apostle is even able to say. "Wherefore I take pleasure in infirmities, in insults, in distresses, in persecutions and frustrations, for when I am weak, then I am strong" (2 Cor. 12:10).[8]
---
4:12–13. Paul spoke from experience. He had been through the extremes: surplus and poverty. He knew how to weather the dangers of both. This was his secret. Greek and Roman religions had secret initiation rites. Some religions and philosophies prided themselves on secret knowledge. Paul had a different kind of secret. His secret was his reliance on Christ, a reliance gained through his Christian experience. Stoics relied on personal will to gain contentment. Paul did not claim such personal inner strength. His strength came from Jesus living in him. Paul was in Christ and thus content no matter what his circumstances.
J. Vernon McGee writes:
Whatever Christ has for you to do, He will supply the power. Whatever gift He gives you, He will give the power to exercise that gift. A gift is a manifestation of the Spirit of God in the life of the believer. As long as you function in Christ, you will have power. He certainly does not mean that he is putting into your hand unlimited power to do anything you want to do. Rather, He will give you the enablement to do all things in the context of His will for you (McGee, Thru the Bible, V:327–8).
The Christian life is not only difficult; it is also impossible unless we acquire the power to live it through Christ. To be sure, this truth does not come naturally to us but must be learned.[9]
---
11–13 Their gifts had been a joy and encouragement to him, but he was not relying on them, nor, by writing like this, was he soliciting further gifts. He could honestly say that he had learnt the secret of contentment with outward circumstances, whether he had little or much. He knew that his Lord would not fail to give him what was necessary and to strengthen him to face every situation. In writing these things Paul uses two words that had significant religious and philosophical use in those days. The word translated content (Gk. autarkēs) means 'self-sufficient'. It was regarded by the Stoics as high virtue to be detached from outward circumstances and to have resources in oneself to meet every situation. Paul uses the word in the sense of his being independent of circumstances, but his all-sufficient resources were, he said, through him who gives me strength, the living Lord Jesus. The other word, translated I have learned the secret, was used in the mystery cults for initiation into a secret. Paul's secret of living was an open secret, available for all who would walk the way of Christ. It was the secret of contentment, since to know Christ and to be called to serve him was 'unsearchable riches' (Eph. 3:8). How far we know the secret of contentment and to what degree we are proving the sufficiency of Christ for all the demands of our lives are always challenging questions for us as Christians.[10]
---
the lesson of contentment (4:10–13)
4:10–13. Paul's heart was made glad (I rejoice greatly in the Lord) because of the continued interest the Philippian Christians showed in him. They had not forgotten him; through them God had met his needs. Even before they sent Epaphroditus they were concerned but had no opportunity to show it.
Paul did not beg God's people to help him in his work. He just placed the need before them and trusted God to meet it. Too, he had learned the lesson of contentment. Changing circumstances did not affect the inner contentment he enjoyed. The word content (autarkēs) means "self-sufficient." The Stoics used this word (which occurs only here in the NT) to mean human self-reliance and fortitude, a calm acceptance of life's pressures. But Paul used it to refer to a divinely bestowed sufficiency, whatever the circumstances.
At times Paul experienced definite financial and material needs, and at other times he had an abundance (v. 12). He learned how to cope with both need and plenty. The words I have learned the secret translate memyēmai (from myeō), which occurs only here in the New Testament. In the mystery religions it was a technical term meaning "to initiate (into the mysteries)." Paul used it here to suggest a kind of "initiation" (by his experiences) into being content when either well fed or hungry, and either in plenty or in want.
Paul said he could do everything—including handling poverty and living in abundance—through Him who gave him strength. This was not an expression of pride in his own abilities but a declaration of the strength provided by Christ.[11]
---
4:12 Paul knew how to be abased, that is, by not having the bare necessities of life; and he also knew how to abound, that is, by having more given to him at a particular time than his immediate needs required. Everywhere and in all things he had learned both to be full and to be hungry, both to abound and to suffer need. How had the apostle learned such a lesson? Simply in this way: he was confident that he was in the will of God. He knew that wherever he was, or in whatever circumstances he found himself, he was there by divine appointment. If he was hungry, it was because God wanted him to be hungry. If he was full, it was because his Lord had so planned it. Busily and faithfully engaged in the service of his King, he could say, "Even so, Father, for so it seemed good in Your sight."
4:13 Then the apostle adds the words which have been a puzzle to many: "I can do all things through Christ who strengthens me." Could he possibly mean this literally? Did the apostle really believe that there was nothing he could not do? The answer is this: When the Apostle Paul said that he could do all things, he meant all things which were God's will for him to do. He had learned that the Lord's commands are the Lord's enablements. He knew that God would never call on him to accomplish some task without giving the necessary grace. All things probably applies not so much to great feats of daring as to great privations and hungerings.[12]
---
[1] MacArthur, J. F., Jr. (2001). Philippians (pp. 295–308). Chicago: Moody Press.
[2] Boice, J. M. (2000). Philippians: an expositional commentary (pp. 250–255). Grand Rapids, MI: Baker Books.
[3] Johnson, D. E. (2013). Philippians. (R. D. Phillips, P. G. Ryken, & D. M. Doriani, Eds.) (1st ed., pp. 279–295). Phillipsburg, NJ: P&R Publishing.
[4] Garland, D. E. (2006). Philippians. In T. Longman III (Ed.), The Expositor's Bible Commentary: Ephesians–Philemon (Revised Edition) (Vol. 12, p. 258). Grand Rapids, MI: Zondervan.
[5] Fee, G. D. (1995). Paul's Letter to the Philippians (pp. 432–436). Grand Rapids, MI: Wm.B. Eerdmans Publishing Co.
[6] Bruce, F. F. (2011). Philippians (pp. 150–151). Peabody, MA: Baker Books.
[7] Barclay, W. (2003). The Letters to Philippians, Colossians, and Thessalonians (3rd ed. fully rev. and updated, pp. 98–100). Louisville, KY; London: Westminster John Knox Press.
[8] Hendriksen, W., & Kistemaker, S. J. (1953–2001). Exposition of Philippians (Vol. 5, pp. 204–206). Grand Rapids: Baker Book House.
[9] Anders, M. (1999). Galatians-Colossians (Vol. 8, pp. 263–264). Nashville, TN: Broadman & Holman Publishers.
[10] Foulkes, F. (1994). Philippians. In D. A. Carson, R. T. France, J. A. Motyer, & G. J. Wenham (Eds.), New Bible commentary: 21st century edition (4th ed., p. 1258). Leicester, England; Downers Grove, IL: Inter-Varsity Press.
[11] Lightner, R. P. (1985). Philippians. In J. F. Walvoord & R. B. Zuck (Eds.), The Bible Knowledge Commentary: An Exposition of the Scriptures (Vol. 2, pp. 664–665). Wheaton, IL: Victor Books.
[12] MacDonald, W. (1995). Believer's Bible Commentary: Old and New Testaments. (A. Farstad, Ed.) (p. 1980). Nashville: Thomas Nelson.