Hunger is surging in the heart of the breadbasket, showing just how dire the problem has become during the pandemic.
Jessica Traxler was surrounded by food that she couldn't afford.
Sitting in a faded-out Chevy sedan one July morning in southern Minnesota, she looked out at corn stalks, lush green, as far as the eye could see. A few miles to the east, a mill was pumping out flour. Just beyond it, a farm grew peppers, beans and berries. To the north, there were dairies, one after the other. To the south, a huge pork plant. Grain elevators, poultry yards, cheese plants—all stood just a short drive away.
If one place underscores just how dire America's hunger problem has become during the pandemic, it is here—in the middle of the breadbasket that supplies food from coast to coast. The ranks of Americans fighting hunger are projected to swell some 45% this year to more than 50 million. Traxler, her husband and six children are among them. She had come to this spot, an empty school parking lot in the town of Mankato, to collect free boxes of food staples: milk and apples and carrots. Hundreds of Minnesotans waited in line ahead of her for hours.
"It's been hard," she said. "We've had to dramatically change how we eat."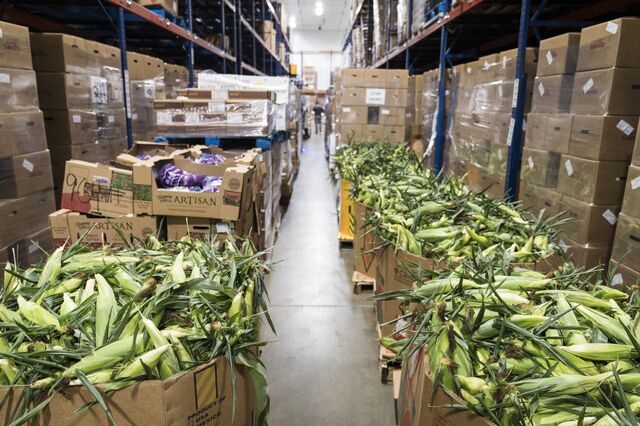 Before the coronavirus shut down the U.S. economy and cost Traxler her job as a substitute teacher, she'd visited some community food shelves, but had never been to a large-scale food bank in her life. Now, at age 41, she is a regular. This is one of the most jarring aspects of the hunger crisis: About one-third of those relying on food shelves, large-scale and emergency food distributions now are doing so for the first time, according to Feeding America, the nation's largest hunger-relief organization. In parts of Minnesota, that number is closer to 70%.
With the nation pitched in a fierce debate over entrenched and systemic inequalities, the most basic divide—who eats well and who goes hungry—is becoming more acute every day. Even before the pandemic, the U.S. already had the highest number of people who couldn't afford a basic energy-efficient diet among the world's 63 high-income countries.
"We are no longer projecting a surge—we are experiencing a surge in food insecurity," said Allison O'Toole, the chief executive officer of Second Harvest Heartland, provides truckloads of food to distributions like the one in Mankato.
During the pandemic, about a 10th of American households reported they haven't had enough food in a given week. That's a shocking figure for the world's richest country. It's more than double pre-Covid figures and the highest since comparable government data starts in 1995.
In contrast to the Dust Bowl years of the Great Depression or the rationing of World War II, the crisis has nothing to do with food supplies. The U.S. is in a time of historic abundance, with plentiful grains, meat and dairy, so much so that farmers have been plowing over excess crops and dumping milk. But lockdowns have snarled supply chains, and food inflation is projected to rise at the fastest pace in almost a decade. Meanwhile, unemployment, low wages and reduced working hours are diminishing purchasing power—all of which are disproportionately impacting women and minorities, as is food insecurity.
▲ Volunteers unload and distribute food items at a pop-up grocery event at Prairie Winds Middle School in Mankato, Minnesota on July 23, 2020.
Photographer: Ben Brewer/Bloomberg
Demand at Minnesota's food banks is up 65% this year, and groups like Second Harvest Heartland say the peak has yet to come. The federal government's $600 weekly supplement to unemployment insurance, which helped millions weather job losses and pay household bills, came to an end last month,and Congress can't agree on a replacement. Donald Trump issued a stopgap measure to provide $300 a week in federal support to most jobless-benefit recipients, but the funds are only slowing moving into Americans' wallets.
And there are people like Traxler, who didn't work enough previously to qualify for unemployment benefits. Her husband works in a livestock feed mill, helping to process the grain that fattens the state's hogs, poultry and other farm animals. Meanwhile, the family has had to give up eating meat.
"We have our mortgage, and then we have all of our utilities," she said. "We've really cut back—even the fruits and vegetables."
"Food is one of the last things on our list."
Americans are unlikely to be suffering from all-out starvation, which plagues parts of Asia and Africa. But many people in the U.S. cope with food insecurity by skipping meals, just not eating enough or eating the cheapest food available. That kind of diet can be calorie dense, but lead to malnutrition. For children, malnutrition can have lifelong consequences including stunted growth and even impaired cognitive development.
That's all playing out right in the middle of abundant food production, even despite government and private aid.
Minnesota is home to beef giant Cargill Inc., Cheerio-maker General Mills Inc. and Spam-producer Hormel Foods Corp. All three companies have been donating to food banks. And the Trump administration just dedicated an additional $1 billion to its program known as "Farmers to Families Food Box Program," which is buying surplus supplies to deliver to food banks and other organizations. The emergency pop-up that Traxler attended was held in partnership with that program.
Even then, much of the food waste on farms hasn't been redirected because of limited logistics and infrastructure. And a Democratic lawmaker has launched an investigation into the food box program, citing a "failure to deliver food to many communities that need it most."
Hunger in rural America isn't new—even before the pandemic, some of the worst areas for food insecurity were in rural communities in the South. But this kind of massive spike in a place like Minnesota is a marker of how much the coronavirus has changed the landscape. In a pre-Covid world, it was among the most food-secure states. Now one in eight people in the state is projected to struggle with hunger.
"We would view this as the most significant challenge that the charitable food system has ever faced" in the U.S., said Katie Fitzgerald, chief operating officer at Feeding America, which oversees a network of 200 food banks.
The deepening hardship could help to explain why Trump is starting to lose support in rural counties, where virus infections are also spreading fast. His job approval rate among rural residents has dropped over the summer to near the lowest this year, Gallup poll data show. Trump spent time in August traveling to Minnesota, along with other swing states like Wisconsin and Iowa—also major food producers.
Many of the people who work in the food industry are among the worst off.
In 2016, about 2.8 million, or 13% of America's food workers were food insecure, relying on the government's Supplemental Nutrition Assistance Program, known as food stamps. That's about 2.2 times higher than other industries. During the Great Recession, the figure surged to 4.6 million people, and the situation could turn more dire now because of prolonged wage stagnation, with some food earnings even falling during the pandemic, according to Jose Oliva, the campaigns director at HEAL Food Alliance, a worker rights group.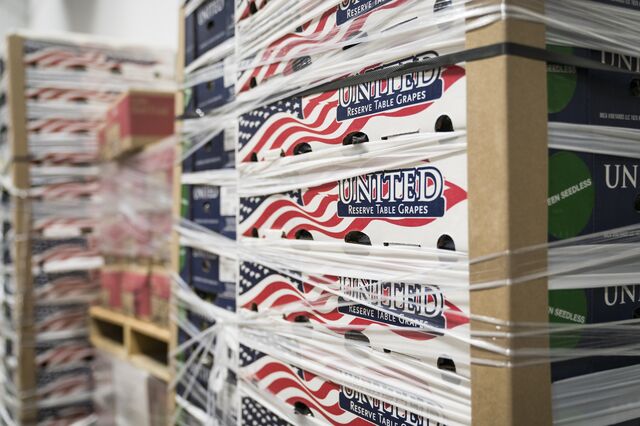 Alicia Rojo Rocha is a farm worker in Idaho's Canyon County, laboring in fields of carrots, onions, alfalfa and potatoes. She gets paid $12 an hour, and the last time her wage went up was about two years ago. When a co-worker on the farm got infected with coronavirus, operations shut down and she was out of work for two weeks in late June. Her husband, who drives trucks for nearby farms, was unemployed for about a month during the pandemic.
Expenses started to pile up, Rocha was late with rent payments and fell behind with other bills. While out of work, she started visiting a local food bank, where she got bread, meat, beans, rice and some produce. Now that she's working again, she hasn't returned to the food bank, because she says, other people need it more. An immigrant from Mexico, she obtained citizenship in 2012, but hasn't applied for federal SNAP assistance because she says she doesn't like "easy" money.
There are days Rocha eats nothing more than an apple, or maybe a single tortilla with beans throughout her almost 10-hour, physically demanding work day. When she returns home, she might have some eggs or potatoes. She sometimes feels helpless "being in abundance and not being able to have it," she said.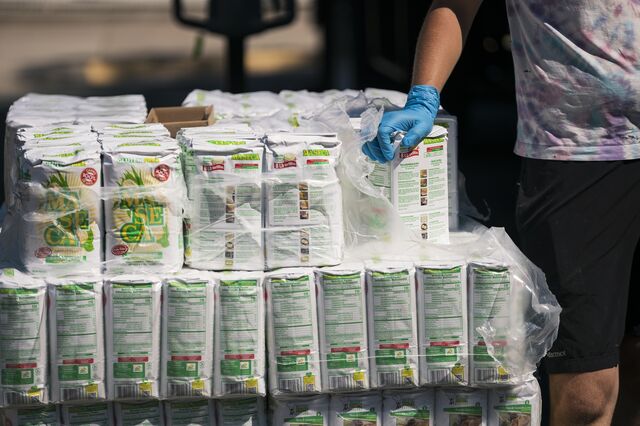 "Sometimes it is more important to pay rent than to buy food."
She was paid on a recent Friday, and by Saturday only had $3 left of her earnings after taking care of bills. Her employer on rare occasions lets her and other workers bring home a few potatoes or onions, but produce like carrots and alfalfa can't be touched.
"You simply adapt. I don't think about food, and I just suck it up," she said.
Rocha sometimes forgoes spending on food for herself to instead send money to a daughter in Mexico—she wants to make sure her grandchildren get fed.
It's not uncommon for women globally to eat less or even skip out on food in favor of feeding other family members. Eons of societal pressures have made it so that women are often tasked with buying, growing and preparing food and making sure a household's children are fed. Women and girls make up 60% of the population facing chronic hunger across the world. The gender gap is even greater among people who are poorer, less educated, or unemployed, according to Care, a hunger relief and advocacy group. One in five U.S. households with children have experienced food insecurity during the pandemic.
"Women often eat last—they're eating least if food is scarce," said Tonya Rawe, a director at Care.
Food inequalities are also exacerbated along racial lines in the U.S. Black Americans are two-and-a half times as likely as their White counterparts to have low or very low access to enough food for an active and healthy life. For Latino Americans, the rate is double that of White people.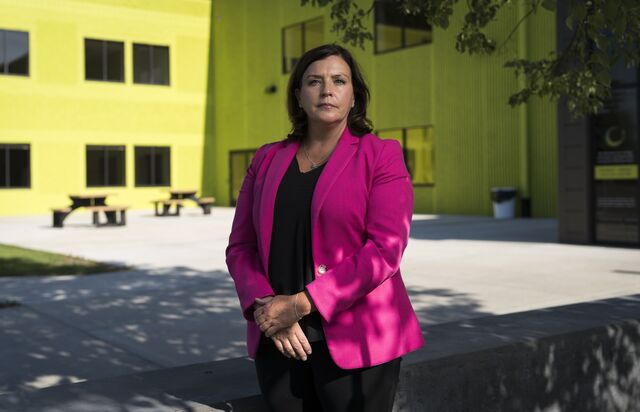 That's a sharp reality in Minneapolis' Powderhorn neighborhood, where George Floyd lived before he was killed by police in May.
About 20% of Powderhorn's residents live below the poverty line in a state with the country's largest gap in median income between White and Black people. Some of the grocery stores and restaurants that shuttered during the demonstrations against police brutality and systemic racism have yet to reopen. That's leaving the area even further cut off from easy access to food, according to O'Toole of Second Harvest Heartland, which helps run emergency grocery pop-ups in the neighborhood.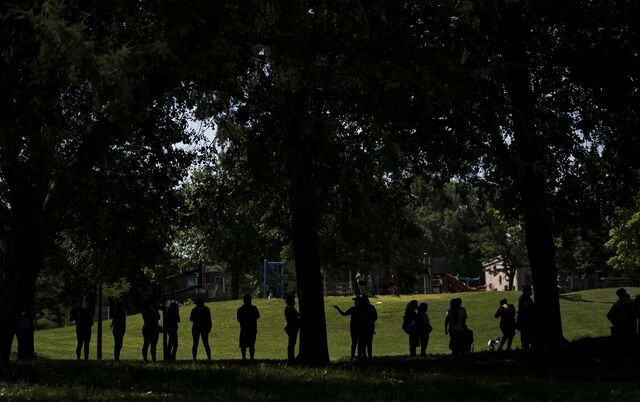 On a recent Friday, people started lining up for the pop-up in Powderhorn Park about three hours before the official 11 a.m. start. Some brought hand carts with wheels or empty baby strollers to help get food home. Shade from the towering trees helped provide some respite from the heat, while the day got increasingly muggy as the sun moved overhead. Many of the families were Latino, and among the rations being distributed was Maseca for making tortillas.
Need in the neighborhood is so great that the pop-ups, which were scheduled to end in August, will be extended through the fall. It's part of the 350,000 pounds of food that Second Harvest distributes on a daily basis, up from pre-Covid demand of 180,000 pounds.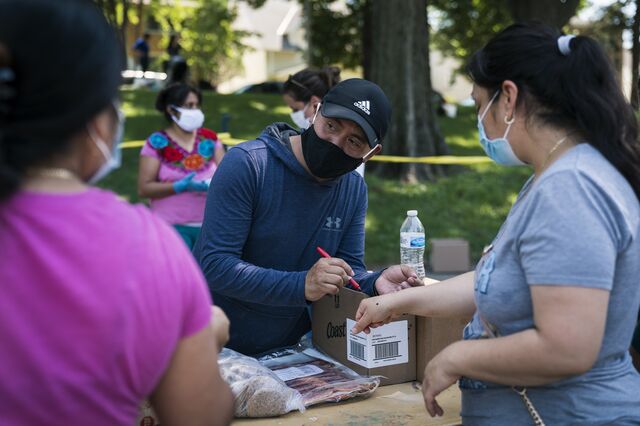 "To see this in Minneapolis—this is unreal. This is in the U.S. where we're dealing with this," said Mariano Espinoza, a Latino community specialist with the city government who's working with Second Harvest to coordinate the pop-ups. "We're all human and we all have the same right—to have food, to have nourishment."
— Read on www.bloomberg.com/features/2020-hunger-minnesota-pandemic/