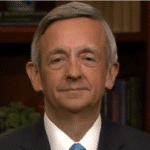 (OPINION) ETH – Dr. Robert Jeffress, the pastor of First Baptist Dallas, took President Biden to task for his first National Day of Prayer proclamation lacking any mention of God or the Bible on the Todd Starnes Radio Show Thursday.
Nationally syndicated radio host Todd Starnes pointed out that instead the Democrat president called on Americans to use prayer to fight racial injustice and climate change.
"The problem with the Democrats is that they don't believe that we are endowed by our Creator with certain unalienable rights," Starnes said in his commentary Thursday. "They believe we are endowed by the government."
Jeffress said he wasn't shocked by Biden's statement.
"It's just unbelievable," he told Starnes. "When President Trump was in the Oval Office we used to go up every year for the National Day of Prayer. He made a big thing about it in the Rose Garden and in the Oval Office, reminding us of our faith heritage as a nation."
The official chaplain of the Todd Starnes Radio Show said America was undoubtedly founded as a Christian nation, but the path forward does not look good.
Jeffress said Democrats "absolutely" have to push Christianity out of the public marketplace to embrace socialism for their "pro-abortion agenda," as Catholic bishops say Biden should not receive communion for his abortion support.
"We just saw that video footage of that preacher in London who was being hauled off because he was simply publicly reading the book of Genesis about gender- God made them male and female and about God's plan for marriage," said Jeffress.
Jeffress said he believes America is five years or less from something like that happening in America.
"I think it will happen more quickly than people can even imagine," he added.
LISTEN TO THE FULL INTERVIEW BELOW BEGINNING AT 1:17:00 ON THE TODDCAST PODCAST:
— Read on www.toddstarnes.com/faith/pastor-jeffress-democrats-absolutely-pushing-out-christianity-to-embrace-socialist-agenda/