The killings rolled over the country like a fast-moving storm. From Savannah to Austin, from Chicago to Cleveland. In six hours one night this month, four mass-shooting attacks.
From coast to coast in the United States, the murder rate is skyrocketing and is seemingly unstoppable. Ironically, these killings are the highest in cities run by Democrat mayors and in states run by Democrat governors, who incidentally, have some of the most restrictive guns laws in the nation. So you would think this would be the biggest concern for the 'black lives matter' crowd, right? Nope, they literally couldn't care less.
"Destroy, O Lord, and divide their tongues: for I have seen violence and strife in the city." Psalm 55:8 (KJB)
Last weekend, forty-three people were shot, three of them fatally, over the weekend in Democrat Mayor Lori Lightfoot's Chicago. Breitbart News noted 32 people were shot Friday into Sunday morning alone in the Windy City, and those shooting victims included the three fatalities for the weekend. ABC 7 / Chicago Sun-Times reports the total number of shooting victims increased to 43 by Monday morning. The Chicago Tribune also explained 1,538 people were shot in Chicago January 1, 2021, through June 11, 2021, That is 184 more shooting victims than were witnessed during that same time-frame in 2020. The Tribune also pointed out 289 people were killed in Chicago January 1, 2021, through June 11, 2021. That is 16 more than were killed during the same period in 2020. Are your eyes bleeding yet from reading these stunning statistics?
Yet, all that Nancy Pelosi and Congress can talk about is the 'uprising' that lasted for about 6 hours on January 6th, they are not the slightest bit concerned with the hundreds of armed brown and black men shooting thousands of brown and black men and women in Democrat cities across America. The reason why they don't care? It's because this violence is intentional in order to collapse our system and allow the enemies of America to usher in Marxism to 'save the day'.
Just look at any of the cities in America with the highest crime rates, and virtually every single one of them are run by Democrats. Amazing coincidence, isn't it?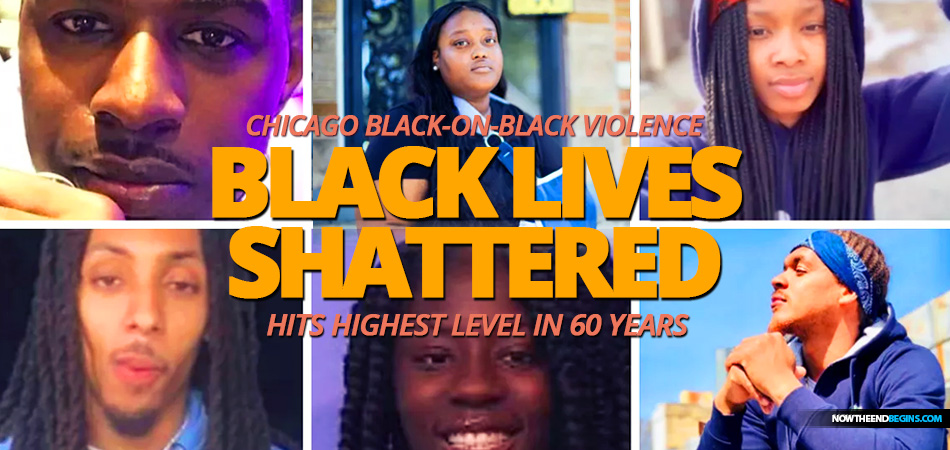 As homicides soar nationwide, mayors see few options for regaining control
FROM MSN: In their wake, a sober recognition from city leaders that they don't have many options left for curbing a surge in homicides that is traumatizing communities nationwide.
"We have done almost all we can do," said Van Johnson, the mayor of Savannah, Ga. The tools for fighting back are "limited" without state and federal help, said Austin Mayor Steve Adler (D).
"It's going to get worse," Cleveland Mayor Frank Jackson (D) said.
As the homicide rate climbed through a year of pandemic-imposed shutdowns and civil unrest, officials held firm to their belief that the rise was driven by that exceptional set of circumstances. As life returned to normal, the theory went, the killings would slow. But even as coronavirus restrictions have been lifted and protests have quieted in recent months, the violence has not subsided. Indeed, it has continued to grow. And now, local leaders are grappling with a possibility they had long feared: that a decades-long era of declining murder rates in America's cities may be over, and that the increased killings may be here to stay.
"There's nothing," said Jackson, "that's going to bring this down in the near future."
Officials and criminal justice experts offer abundant reasons: A nation awash in guns, now more than ever. Deep mistrust between police departments and the communities they serve, particularly in high-poverty areas. The still-painful stresses caused or exacerbated by the pandemic. A cycle of violence that, once set in motion, is hard to break.
"The thing about violence is that it builds on itself. It cascades," Princeton sociologist Patrick Sharkey said. "Each shooting brings the possibility of a reprisal." While the causes may be known — or at least theorized — the solutions are more contested. Even now, there is widespread disagreement over why the homicide rate fell for so long. How to bring it back down has become a subject of vigorous debate, with the issue taking center stage in Tuesday's New York mayoral primary and offering yet another flash point in the country's partisan divide.
Democrats almost universally say tighter gun laws are needed to curb violent crime, along with investments in education and jobs programs to reduce historic inequities.
"Guns and poverty are the two outliers that we have compared to other countries," said Louisville Mayor Greg Fischer (D), whose city saw a near-doubling of homicide rates last year. "There are just guns everywhere."
But new gun restrictions are a nonstarter in Washington, where Republicans have blocked repeated efforts, and in many GOP-controlled state legislatures the laws have been loosened this year. Republicans — along with many police unions and some chiefs — say the real cause of the spike in killings has been an overzealous criminal justice reform movement that has devastated morale in departments and allowed too many criminals to go free.
"Nowhere do you see recognition that there are some people who cause incredible harm to the community and who unfortunately need to be in jail," said Bill Bratton, a former police commissioner in New York, Los Angeles and Boston. READ MORE
Kamala Harris Says The Riots Should Continue
As Congress Obsesses Over The 6-Hour 'Revolution' Of January 6TH, Hundreds Are Slaughtered Each Month In Democrat-Run Cities Across America — Now The End Begins