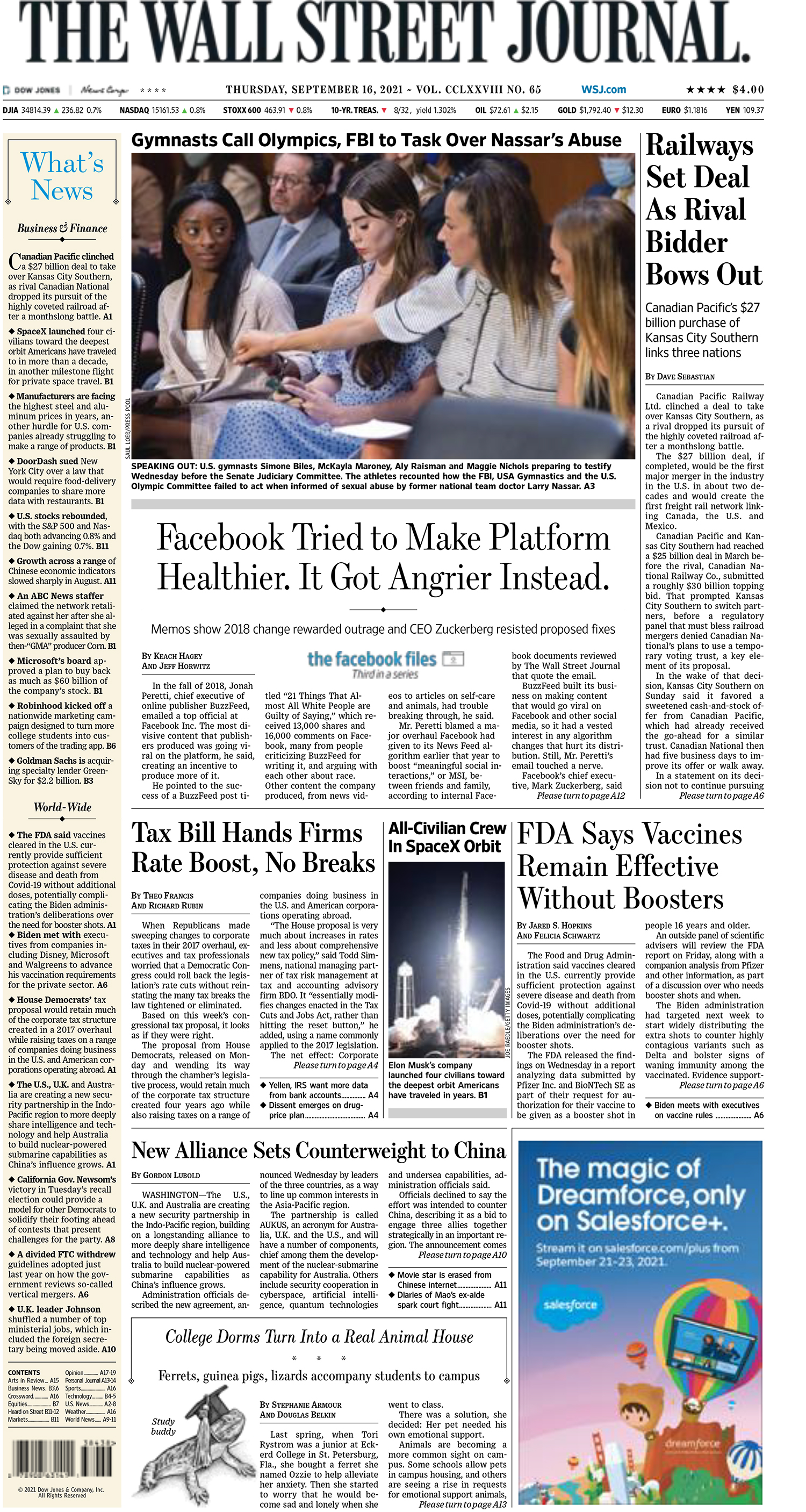 North Korea launches two ballistic missiles toward Japan; missiles land in international waters between Japan, Korean Peninsula
North Korea launched two ballistic missiles off the nation's coast toward Japan Wednesday, leading Japan's prime minister to condemn the move as "absolutely outrageous." "The firings threaten the peace and safety of Japan and the region and are absolutely outrageous," said Japanese Prime Minister Yoshihide Suga,
They Are Creating The Biggest Witch Hunt In American History
Up until just recently, there just hasn't been an easy and efficient way to identify those that are not eager servants of the system. But now the COVID vaccines have changed everything. These injections are the perfect litmus test, because "troublemakers", "independent thinkers" and "non-conformists" are pretty much the only ones that are refusing the shots at this point. This makes it exceptionally easy to divide American citizens into two categories, and it also gives authorities a perfect excuse to push all of those "troublemakers", "independent thinkers" and "non-conformists" to the fringes of society.
US, UK To Share Nuclear Submarine Technology With Australia In "Historic" Military Pact Against China
the US, Britain and Australia announced on Wednesday a "historic" security alliance to strengthen military capabilities in the Pacific, which will share advanced defense technologies and give Australian forces nuclear submarine technology further extending Washington's drive for military cooperation that has angered China (although we are confident Gen Milley has already shared said nuclear technology with China so their anger will probably be contained).
5-Minute-Plus Wait-Time For 911 Calls In Portland Amid Staff Shortages, Efforts To Defund Police
People calling 911 to report a Sept. 4 shootout at a Pearl District restaurant and other emergencies in the following half-hour waited an average of more than 7.5 minutes before a dispatcher answered, The Oregonian reported, adding that this was just "the latest example of serious problems plaguing the city's emergency dispatch system."
Trump SecDef Refutes Milley's 'Regular Comms' Excuse, Calls For Immediate Resignation
While General Milley and The White House must be hoping that if they just keep pointing the finger at Trump's behavior, this whole treasonous affair will go away judging from angry comments from Christopher Miller – who was Donald Trump's acting Secretary of Defense at the time of the calls to China – this crisis is anything but over… the former Pentagon chief said he did not authorize Gen. Mark Milley, Chairman of the Joint Chiefs of Staff, to directly contact China's top military commander – contrary to Milley's claims that his conversations with Beijing were approved by defense officials.
Treason-mania grips U.S.: Pressure builds on 'treacherous' Gen. Milley
Reacting to Gen. Mark Milley's non-denial of the report that he promised to warn China if President Trump ordered a military strike, Sen. Marco Rubio, R-Fla., said Wednesday the Joint Chiefs of Staff chairman's actions were "treacherous." A spokesman for the Joint Chiefs issued a statement earlier Wednesday arguing that the chairman "regularly communicates with Chiefs of Defense" of various nations. In a video posted to Twitter, Rubio contested the statement's logic. "If these are normal phone calls, like the kind he makes every night, then why is this a story?" he asked.
US Industrial Production Returns To Pre-pandemic Level: Fed
Production by US factories, mines and utilities in August surpassed the level seen before the pandemic caused an unprecedented collapse, according to Federal Reserve data released Wednesday. Industrial production increased 0.4 percent in August, but it could have been 0.3 percentage points higher had it not been for the effects of Hurricane Ida, which caused flooding and destruction in parts of Louisiana and the northeastern United States.
Joe Biden's next blunder – Jerusalem
You are probably wondering what comes next for the man who's done everything wrong since he became president. Wait no more. Biden has set his sights on Jerusalem so far as his next blunder following Afghanistan. Biden is prepared to fix everything that ain't broke.
Yom Kippur: What you need to know about the holiest day in Judaism
Also known as the Day of Atonement, the holiday is traditionally considered the most important in all of Judaism, and is marked by a 25-hour fast and numerous restrictions and rules. The fast of Yom Kippur is explained in the Bible, described in the Book of Leviticus as a day of cleansing, where the Jewish people atone for their sins, become pure, and pray that they are inscribed in the Book of Life.
Israel will turn 'into hell,' warns elusive Hamas leader
The head of Hamas' military wing Mohammed Deif issued a rare recording … "Just like you say 'go to hell,' you left Gaza because it was hell for you, and tomorrow we will turn all of Palestine into hell for you."
Egypt opens restored tomb of pharoah who ruled 4,500 years ago
The structure − known as the Southern Tomb − is largely underground and includes a labyrinth of corridors, decorated with hieroglyphic carvings and tiles. A central funeral shaft houses a massive granite-clad sarcophagus from Egypt's Third Dynasty.
Gantz: Israel can 'live with' new Iran nuclear deal
"The current US approach of putting the Iran nuclear program back in a box, I'd accept that," Gantz said, but noted that Israel would want to see the US lead a "viable Plan B" if negotiations with Iran failed. Gantz said the Plan B should include political, diplomatic, and economic pressure on Iran from the US, Europe, Russia, and China.
Will Taliban's return feed Kashmir insurgency?
India's leaders are anxiously watching the Taliban takeover in Afghanistan, fearing that it will benefit their bitter rival Pakistan and feed a long-simmering insurgency in the disputed region of Kashmir, where militants already have a foothold.
New project invents Hebrew letters to make the language of the Bible gender neutral
A recent article in The Forward reported on a project by Michal Shomer, a graphic artist, to add 12 new letters to the Hebrew alphabet in order to make it "more inclusive of both women and non-binary people." "As a feminist, and as a citizen, I am committed to using my skills and my education for social change," Shomer said in the interview with The Forward. "That's why I designed these letters."
Palestinian statehood would be a 'terrible mistake' – Bennett
It would be a terrible mistake to create a Palestinian state, Prime Minister Naftali Bennett said…after his return from his…meeting with Egyptian President Abdel Fattah al-Sisi. "I oppose a Palestinian state. I think it would be a terrible mistake that would take the terrible situation in Gaza and recreate it in Judea and Samaria," Bennett told KAN news.
Pennsylvania Republicans look to subpoena personal information about voters in 2020 election inquiry
Republican lawmakers in Pennsylvania are poised to subpoena state officials for identifying information about registered voters as part of a "full forensic investigation" into the 2020 election, according to new reports. The state Senate's Intergovernmental Operations Committee will vote Wednesday on whether to issue a subpoena to the Department of State…
Biden meets Wednesday with execs on COVID vaccine mandate
President Joe Biden met Wednesday with executives from some of the country's biggest companies, including Disney, Microsoft and Walgreens, to discuss his sweeping COVID-19 vaccine mandate announced last week…to discuss strategies for expanding vaccine requirements at their companies and whether they've seen success increasing vaccinations among workers…
Blinken floats 'new' war-making powers to counter terrorist threats in Afghanistan
President Joe Biden's administration wants the legal authority for military counterterrorism operations in Afghanistan "if necessary" in light of the…Taliban's victory… "We need to look to make sure that we have all the authorities that we would need for any potential contingency, including the reemergence, as a threat, of al Qaeda,"…
Aukus: UK, US and Australia launch pact to counter China
The UK, US and Australia have announced a historic security pact in the Asia-Pacific, in what's seen as an effort to counter China. It will let Australia build nuclear-powered submarines…using technology provided by the US. The Aukus pact, which will also cover AI and other technologies, is one of the countries' biggest defence partnerships in decades…
Hezbollah brings Iranian fuel into Lebanon to ease shortages
Four convoys carrying Iranian fuel have arrived in Lebanon under an initiative by the militant group Hezbollah to ease the country's crippling energy crisis. Eighty lorries with 4m litres (1.1m gallons) of diesel on board crossed the border from Syria, where a tanker is docked, Hezbollah's Al-Manar TV said.
Moderna Analysis: Those Vaccinated Last Year Twice More Likely to Contract Covid-19
Moderna Inc. has released a set of data which suggested its COVID-19 vaccine is effective in preventing serious health issues or death from "variants of concern" but admitting that efficacy decreases over time, such that those who received the vaccine last year were twice more likely to contract a breakthrough case of the coronavirus disease.
Major Supermarket Chain Warns Inflation Is About to Impact More Americans
An executive of Kroger, one of the largest supermarket chains in the United States, warned grocery prices are about to become even higher this year as inflation sets in.
NY Hospital Forced To Stop Delivering Babies After Maternity Workers Resign Over Vaccine
A hospital in upstate New York has been forced to 'pause' the delivery of babies starting Sept. 24 after a flood of maternity workers resigned over Covid-19 vaccine mandates.
Texas Hospital Faces Closure Over COVID-19 Vaccine Mandate
Hospital administrators in Lubbock, Texas are concerned that the Biden Administration's vaccine mandate will force them to lay off large portions of their workforce or risk losing federal funding, either of which would result in the hospitals being forced to shut down.
Seriously ill COVID-19 patients double in vaccine pace-…
The rapid pace of new COVID-19 infections and a doubling of seriously ill patients in Singapore have raised unexpected hurdles to reopening plans for the vaccination frontrunner, where 81% of the population is fully vaccinated.
Biden's Total Financial Surveillance
Imagine living in a world where every one of your noncash financial transactions—a restaurant meal, a Venmo transfer to a friend…was automatically reported to a beefed-up, audit-hungry IRS. That dystopia will become a reality if President Joe Biden gets his way. Biden, Treasury Secretary Janet Yellen, and key Capitol Hill allies such as Sen. Elizabeth Warren (D–Mass.) are pushing a vast, intrusive financial surveillance system in the name of closing the "tax gap."
BREAKING: Two Healthcare Insiders at Aegis Living Blow Whistle on Alleged Elder Abuse and Medical Fraud … 'Aegis Living is Grossly Taking Advantage of Severely Vulnerable Adults' … 'Signature Had Been Forged Multiple Times'
Cassandra Renner, who worked as a Medical Technician at Aegis Living, said she came forward because she could no longer bear the corruption in her workplace.
WATCH: NCAA Golfer Has Severe Adverse Heart Condition Due To COVID Vaccine, Speaks Out Against Vaccine Mandates
After being compelled to get his second dose of the Covid-19 vaccination, a Division I athlete from Tennessee State University was hospitalized with myocarditis.
Hospitals Across America And The World Have Become Death Camps
….The stories of patients being checked for many other problems, like motorcycle accidents, heart attacks, strokes and so many more, are admitted for covid although NO test is made, no symptoms are found for covid.
Tony Blinken Confirms That When 'Walkaway' Joe Biden Ordered His Cowardly Pullout From Afghanistan, Muslim Child Brides Were Taken
We have all seen the disgusting videos of Senator Joe Biden molesting children, sniffing their hair, making lewd comments and touching them inappropriately. So maybe it's only fitting that 'Walkaway' Joe's legacy in Afghanistan is not only cowardly retreat, drone kill strikes of innocent Afghans, and the death of 13 US servicemen, but also the fact that his orders allowed middle age Muslim men to be evacuated with their 12-year old child brides at their side.
Japan Holds Large-Scale Drills for 1st Time Since 1993 Amid Chinese Assertiveness
Japan has started a nationwide full-scale military drill on Wednesday for the first time in nearly 30 years as it aims to enforce its capabilities to defend remote islands amid China's assertive actions in the Indo-Pacific.
TV station asks for stories of unvaxxed fatalities but gets deluged with jab death and injury stories
Detroit's ABC station asked Facebook users to share stories of unvaccinated people who have passed away from COVID-19, only to be flooded with stories of death and injury as a result of the shots.
Top Secret Meeting in Australia Ahead of 'Major International Development' Out of United States on Thursday
In Australia, the government is holding secretive talks about a massive event expected to come out of America in the imminent future. "Several federal cabinet ministers were called to a top-secret meeting in Canberra on Wednesday ahead of a major international development expected out of the United States on Thursday morning," the Australian-based publication The Age reported.
As Australia Announces That They Are Working To Advance The New World Order, They Are Also Pushing The Global D10 Ten Nation Confederacy
The nation of Australia has been lighting up Google searches related to 'New World Order', and for good reason, they have been announcing from the highest levels of their own government that they are using COVID-19 mandates to advance the….well, you know…New World Order.
BREAKING: Federal judge blocks New York vaccine mandate for healthcare workers
A federal judge in New York has temporarily blocked the state from enforcing a COVID-19 vaccine mandate without religious exemptions that applies to hundreds of thousands of healthcare workers.
Source: https://www.raptureready.com/2021/09/16/16-sep-2021/
Both North and South Korea have test fired missiles hours apart, raising tensions of possible warPosted: 16 Sep 2021 06:58 AM PDTNorth and South Korea tested ballistic missiles hours apart Wednesday in a display of military might that is sure to exacerbate tensions between the rivals at a time when talks aimed at stripping the North of its nuclear program are stalled.Defense News reported that the South Korean and Japanese militaries said North Korea fired two short-range ballistic missiles that flew 800 kilometers (500 miles) before landing in the sea inside Japan's exclusive economic zone — a worrying development even though they did not reach Japan's territorial waters.Continue reading Both North and South Korea have test fired missiles hours apart, raising tensions of possible war at End Time Headlines.
The U.S. And China Are Closer To War Than Most Americans Would Dare To ImaginePosted: 16 Sep 2021 06:49 AM PDT(OPINION) Are we in danger of stumbling into a major military conflict? This week, a couple of startling revelations have really shaken up those that closely watch U.S. relations with China.The relationship between our two nations continues to deteriorate, and we are now closer to a war with China than we have ever been since the end of the Korean War. This is something that I have been warning about for a long time, and I am extremely alarmed by what has just been revealed.Continue reading The U.S. And China Are Closer To War Than Most Americans Would Dare To Imagine at End Time Headlines.
Wales 'LGBTQ+ Action Plan' may place pastors at risk of prosecution for 'hate incident'Posted: 16 Sep 2021 06:13 AM PDTA proposed law in Wales could threaten the religious freedom of pastors and their ability to provide counseling to people with unwanted same-sex attractions, a Christian advocacy group has warned.The draft version of the LGBTQ+ Action Plan for Wales, published by the devolved government of Wales in July, seeks to ban "all aspects" of sexual orientation change efforts therapy, or what's often derisively known as "conversion therapy."While the plan states that its goal is to "improve the recognition of LGBTQ+ people" and "advance LGBTQ+ equality and inclusion," some Christians fear it would restrict pastors' ability to counsel their parishioners, and put them at risk of facing a hate crime charge if they share their biblically-based beliefs about human sexuality.Continue reading Wales 'LGBTQ+ Action Plan' may place pastors at risk of prosecution for 'hate incident' at End Time Headlines.
(VIDEO) Maskless toddler with asthma booted off American Airlines flight for violating "mask mandate"Posted: 16 Sep 2021 06:04 AM PDTThe mother of an asthmatic two-year-old has slammed the "truly evil, power-tripping" attendant who removed her family from an American Airlines flight over mask compliance.Amanda Pendarvis and her young son, Waylon, were traveling from Dallas to Colorado on Monday when the flight attendant noticed the child was having trouble keeping his mask on."He got on the intercom and to say to the entire plane, 'I'm sorry for the delay but we are dealing with a non-compliant traveler," Ms.Continue reading (VIDEO) Maskless toddler with asthma booted off American Airlines flight for violating "mask mandate" at End Time Headlines.
NFL's Buffalo Bills will require fans to provide proof of vaccination to attend their gamesPosted: 16 Sep 2021 05:46 AM PDTThe Buffalo Bills announced on Tuesday that their fans will need to have proof of vaccination against COVID-19 to attend games. According to TheHill, The team posted on Twitter that people entering the stadium for games on Sept. 26 and Oct. 3 will need to have at least one dose of the coronavirus vaccine.Starting Oct. 31, fans will need to be fully vaccinated to enter Highmark Stadium. There is no option to present a negative coronavirus test.Continue reading NFL's Buffalo Bills will require fans to provide proof of vaccination to attend their games at End Time Headlines.
There is such a shortage of bus drivers that Massachusetts governor deploys state's national guard to assistPosted: 16 Sep 2021 05:40 AM PDTDozens of Massachusetts National Guard members will begin training Tuesday in four cities to alleviate the state's bus driver shortage, Gov. Charlie Baker announced this week.According to NBC News, Baker's order will send 90 Guard members to Chelsea, Lowell, Lawrence, and Lynn to serve as drivers, the governor announced in a statement Monday. "These Guard personnel will be available to serve as drivers of school transport vans known as 7D vehicles to address staffing shortages in certain districts," the statement said.Continue reading There is such a shortage of bus drivers that Massachusetts governor deploys state's national guard to assist at End Time Headlines.
Pfizer will seek approval for getting children from 6 months to 5 years old vaccinated in NovemberPosted: 15 Sep 2021 04:38 PM PDTPfizer's Covid vaccine could be rolled out to babies as young as six months in the US this winter, under plans being drawn up by the pharmaceutical giant. In a move likely to cause international controversy, the company intends to apply for authorization to immunize American infants within the next two months.The Daily Mail reported that the timeline will depend on the findings of in-house trials looking into whether the vaccines are safe and effective in youngsters aged six months to five years.Continue reading Pfizer will seek approval for getting children from 6 months to 5 years old vaccinated in November at End Time Headlines.
Chinese state-run newspaper claims that warships could 'soon' near HawaiiPosted: 15 Sep 2021 03:25 PM PDTChinese warships could "soon" show up near Hawaii and Guam, according to China's state-run newspaper "Global Times." The newspaper said warships could be on their way following claims that the US Navy challenged international waters near Beijing.Hawaii News Now reported: The Global Times' editor-in-chief, Hu Xijin, tweeted: "Hopefully when Chinese warships pass through the Caribbean Sea or show up near Hawaii and Guam one day, the US will uphold the same standard of freedom of navigation.Continue reading Chinese state-run newspaper claims that warships could 'soon' near Hawaii at End Time Headlines.
Google Bans Live Action's Pro-Life Online AdsPosted: 15 Sep 2021 11:51 AM PDTThe pro-life group Live Action says the search engine Google has removed all of its online ads and has barred the organization from promoting a new video about how unborn babies develop in the womb.According to Live Action, the ads that were banned included the promotion of Baby Olivia, a medically accurate animation of human development in the womb, as well as promotion of the Abortion Pill Reversal (APR) hotline, managed by a team of medical professionals who helped develop the life-saving technology.Continue reading Google Bans Live Action's Pro-Life Online Ads at End Time Headlines.
North Korea launches ballistic missiles, Fears grow of nuclear confrontation, Taiwan conducts Chinese invasion wargame, Kim's sister warns of 'destruction' of S.Korean tiesPosted: 15 Sep 2021 11:19 AM PDTNorth Korea has fired two ballistic missiles, South Korea's military said on Wednesday, amid fears over the state's nuclear capabilities. According to a report from Mirror, Japanese Prime Minister Yoshihide Suga called the ballistic missile launch "outrageous", and strongly condemned the action as a threat to peace and security of the region.Japan's coast guard said the projectile appeared to have landed outside the country's 'exclusive economic zone.' South Korea's Joint Chiefs of Staff said in a statement that they and US intelligence authorities were analyzing more details about the launches.Continue reading North Korea launches ballistic missiles, Fears grow of nuclear confrontation, Taiwan conducts Chinese invasion wargame, Kim's sister warns of 'destruction' of S.Korean ties at End Time Headlines.