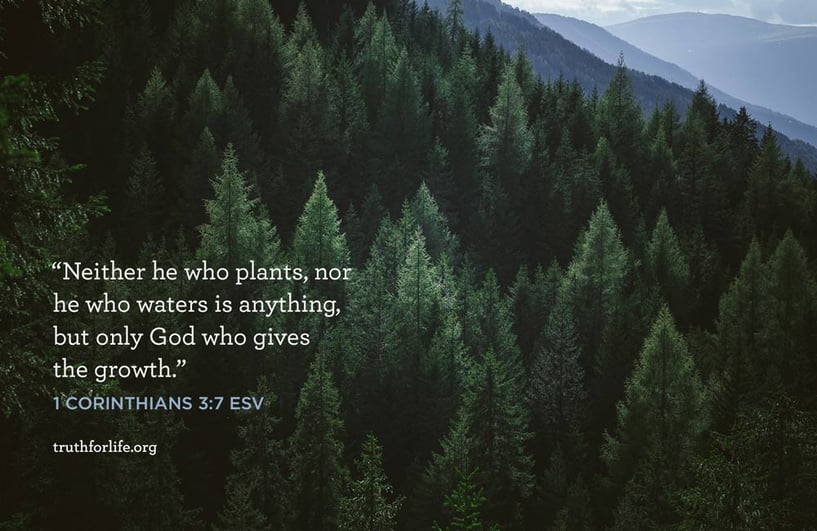 5 What then is Apollos? What is Paul? Servants through whom you believed, as the Lord assigned to each. 6 I planted, Apollos watered, but God gave the growth. 7 So neither he who plants nor he who waters is anything, but only God who gives the growth. 8 He who plants and he who waters are one, and each will receive his wages according to his labor. 9 For we are God's fellow workers. You are God's field, God's building.
The Holy Bible: English Standard Version. (2016). (1 Co 3:5–9). Wheaton, IL: Crossway Bibles.
---
The Cure for Divisions: Glorifying God
What then is Apollos? And what is Paul? Servants through whom you believed, even as the Lord gave opportunity to each one. I planted, Apollos watered, but God was causing the growth. So then neither the one who plants nor the one who waters is anything, but God who causes the growth. Now he who plants and he who waters are one; but each will receive his own reward according to his own labor. For we are God's fellow workers; you are God's field, God's building. (3:5–9)
The cure for division is turning away from self and setting our eyes on the one God whom we all glorify. When our attention is focused on our Lord, as it always should be, there will be no time and no occasion for division. When our attention is on Him it cannot be on ourselves or on human leaders or human factions.
Apollos and Paul were simply the servants through whom you believed. They were the instruments, not the source, of salvation. As Paul had reminded them earlier, he had not died for them and they were not baptized in his name (1:13). The same was true, of course, for Apollos and Peter, as it is true for all other ministers of the Lord of all time. All Christians, including even such men as those, whom the Lord used so mightily, are but His servants (diakonoi), or ministers (KJV). It is not the same word (doulos) often translated "servant, slave, or bond-servant" (7:21–23; Rom. 1:1; etc.), but simply meant a menial worker of any sort, free or slave. It was often used of a table waiter or what we would now call a busboy.
Paul was saying in effect, "No one builds a movement around a waiter or busboy, or erects monuments to them. Apollos and I are just waiters or busboys whom the Lord used as servants to bring you food. You do not please us by trying to honor us. Your honor, your glory, is misplaced. You are acting like the world, like mere men. Build your monuments, give your praise to the One who prepared the spiritual food we delivered."
The world honors and tries to immortalize great men because men are the highest thing it knows. The world cannot see beyond itself. But Christians know God—the Creator, the Sustainer, the Savior, the Lord of the universe, and the Source of all things. He alone is worthy of honor. We are but His servants, His instruments. If an artist is to be honored, you do not make a statue of his brush or his palette. It makes no more sense for Christians to glorify men, even a Paul or an Apollos, who are only brushes or palettes in the Master's hands. Such are to be esteemed and loved for their work (1 Thess. 5:12–13), but not revered or set against each other.
Those men had their God-appointed work to do. Using agricultural metaphors, Paul acknowledged that he had planted and that Apollos watered. They had done their work well and faithfully. But the real work was the Lord's. God was causing the growth. No man, not even the best farmer or the best horticulturist, can give physical life or growth to a plant. How much less can anyone, even an apostle, give spiritual life or growth to a person. The most that men can do in either case is to prepare and water the soil and to plant the seeds. The rest is up to God. Neither the one who plants nor the one who waters is anything, but God who causes the growth. The human instrument is not anything but a tool. All the honor for the accomplishment goes to God.
Paul here mentions only two types of ministry, represented by planting and watering. His principle, however, applies to every type of ministry. In our eyes, some Christian work is more glamorous, or seems more important or more significant than other work. But if God has called a person to a work, that is the most important ministry he can have. All of God's work is important. To glorify one kind of Christian work above another is just as carnal and divisive as to glorify one leader above another.
Our Lord's parable in Matthew 20:1–16 demonstrates the equality of our ministries in the day of rewards. Jesus gave the parable as a corrective to the disciples' feeling that they were more worthy than others (19:27–30). We will all equally inherit the promised eternal life, with all its blessings. That is the sameness of future glory.
He who plants and he who waters are one. All of God's workers are one in Him, and to Him all glory should go. Recognition of our oneness in the Lord is the sure and only remedy for divisiveness. It leaves no place for the flesh and its jealousy, strife, and division.
God does not fail to recognize the faithful work of His servants. Each will receive his own reward according to his own labor. God will "give their reward to [His] bond-servants the prophets and to the saints and to those who fear [His] name, the small and the great" (Rev. 11:18). That is the uniqueness of future glory.
God rewards on the basis of labor, not success or results. A missionary may work faithfully for 40 years and see only a handful of converts. Another may work far fewer years and see far more converts. Jeremiah was one of God's most faithful and dedicated prophets, yet he saw little result of his ministry. He was ridiculed, persecuted, and generally rejected along with the message he preached. Jonah, on the other hand, was petty and unwilling, yet through him God won the entire city of Nineveh in one brief campaign. Our usefulness and effectiveness are purely by God's grace (cf. 1 Cor. 15:10).
It is appropriate that God's faithful servants be appreciated and encouraged while they are on earth. But they are not to be glorified, set apart, or made the center of special groups or movements.
Paul and Apollos were but God's fellow workers. It was not their own ministry that they worked in, but His. What divine companionship! It was God's church in Corinth, not Paul's or Apollos's or Peter's. The believers there were God's field, God's building, and His alone. And the glory for any good work done there, or anywhere, is also His alone.[1]
---
5–7 Paul begins by asking the question, "What, after all, is Apollos? And what is Paul?" Note that the apostle here uses the neuter ti ("what") rather than the masculine tis ("who"). What he is talking about is not the person of these two church workers but their task or function.
Both Paul and Apollos are "servants" (diakonoi, GK 1356) of the Lord through whom members of the church in Corinth became believers—some through Paul and some through Apollos. The word diakonos does not have the strong authoritative connotation that the synonym doulos ("slave," GK 1528) has; diakonos emphasizes the voluntary service or ministry that one renders for another person or persons. This word eventually came to denote a "deacon" in the church. The ultimate diakonos, of course, is Jesus Christ, who "did not come to be served, but to serve [diakoneō, GK 1354], and to give his life as a ransom for many" (Mk 10:45).
But even though both Paul and Apollos are servants, this does not mean that they performed exactly the same ministry. Each had his own primary "task" or gift that he received from the Lord for his work (cf. Eph 2:12). Both, it is true, functioned in evangelism—in bringing people to salvation in Christ—but Paul's main task was planting the seed of the gospel, while Apollos's was to water that seed in order to help nurture the new Christians in the faith. Both, moreover, were successful in their individual tasks, yet the credit for the achievement was not to go to either of them but to the Lord, who "made [the seed/plant] grow" (v. 6; cf. v. 7).[2]
---
3:7 / Paul seeks to explain this seemingly clear image. Neither he nor Apollos is important. Only God matters. The Corinthians are so worldly that they cannot see beyond the human ministers, God's servants, who labor among them in distinct but complementary and equally necessary ways. If there are differences between God's servants, those differences exist because God has assigned different tasks to his workers. The tasks are important, but there is no reason to esteem one of God's servants more than another. Rather, God is the one with whom the Corinthians are to be concerned and the one to whom the Corinthians are to give their devotion (only God … makes things grow).[3]
---
7. So then neither the one who plants nor the one who supplies the water is anything, but only God causes the increase.
Verse 7 supplies the conclusion to the preceding verse (v. 6): not man but God receives the honor and glory for the work performed in the church. Paul continues to use the imagery borrowed from agriculture by referring to "the one who plants" and "the one who supplies the water." These two, however, do not receive credit, even though their labor is vital. God receives his full due. In the Greek, the word Theos (God) stands last in the sentence and thus receives emphasis.
Notice that in this conclusion, Paul does not mention any personal names. He is not interested in names but in results. The work of preaching and teaching the gospel that is performed everywhere can succeed only if God grants his blessing. The Corinthians must see the hand of God in the work accomplished by the ministers of the Word. The ministers are nothing in comparison to God. Should God desire to raise up a church without the aid of preachers, he could do so. But he employs ministers to effect the growth of the church (see Rom. 10:14). Paul is not deprecating the work to which preachers are called. Not at all! However, he purposely omits personal names to show the readers that not the preacher but God is important.[4]
---
[1] MacArthur, J. F., Jr. (1984). 1 Corinthians (pp. 73–75). Chicago: Moody Press.
[2] Verbrugge, V. D. (2008). 1 Corinthians. In T. Longman III &. Garland, David E. (Ed.), The Expositor's Bible Commentary: Romans–Galatians (Revised Edition) (Vol. 11, pp. 283–284). Grand Rapids, MI: Zondervan.
[3] Soards, M. L. (2011). 1 Corinthians (p. 70). Grand Rapids, MI: Baker Books.
[4] Kistemaker, S. J., & Hendriksen, W. (1953–2001). Exposition of the First Epistle to the Corinthians (Vol. 18, p. 106). Grand Rapids: Baker Book House.